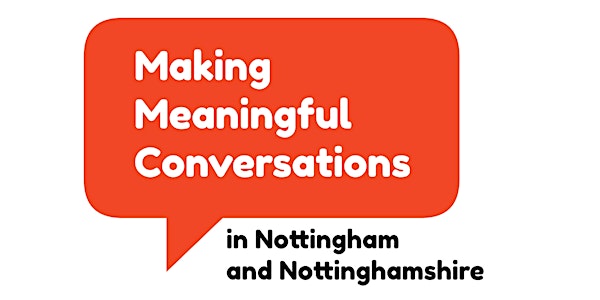 Making Meaningful Conversations in Nottingham
How do we make our conversations meaningful in Notts? How do we best listen to resident voices and act with intent?
About this event
Would you benefit from coming together with others, with shared interests?
What do meaningful conversations mean to you?
Do you work with communities to understand what is important to them? Do you want to help build these bridges? Are you interested in coming together to explore what meaningful conversations with residents might look and feel like? How do we inspire a culture of co-production across Nottingham and Nottinghamshire?
Representatives from Nottingham City Council, Nottinghamshire County Council, Notts CCG and Active Notts have identified a shared interest in. These partners are coming together to develop this work in a sustainable way and we would like to make this an open invite
If you have thoughts or an invested interest in this area then we would love for you to sign up and join us.