Lord Bilimoria CBE, DL, FCA & President of the CBI delivers this virtual inaugural lecture on Making The World A Better Place
About this event
The inaugural Helen Taylor Thompson Memorial Lecture is to be given by the founder of Cobra Beer and Chancellor of The University of Birmingham, Lord Bilimoria.
This free online lecture is being broadcast live via Zoom and will focus on forging new and creative partnerships between the Business and Charity sectors.
Lord Bilimoria's lecture will be followed by a Q & A session hosted by a panel of experienced professionals in their field.
Timings
18.30 - Welcome and Introduction
18.35 - Lecture
19.05 - Q&A
Panellists: Lord Bilimoria (President of the CBI, Chancellor of The University of Birmingham); Clive Dove-Dixon (CEO of CAN Mezzanine); Ayesha Dikko (Deputy Director, Education Saves Lives) & Jyotsna Chandrani
19.30 - Capturing the start of future partnerships
19.45 - Conclusion & wrap up of the evening
Further Information
If you run a business or are involved with a charity that has ever tried to raise sponsorship for a project, you will know that business and charities can sit uncomfortably together. Helen Taylor Thompson lived a life of bringing people together in new and creative ways and this event is designed to build on that legacy focussing particularly on business/charity partnerships.
Helen was described by the BBC when they selected her as one of the 100 most influential women in 2018 as a 94 year old spy who was still keeping secrets from the second world war!
Helen served in Churchill's Secret Operations Executive followed by a business career in laundries and property before joining the health service and opening Europe's largest AIDS hospice in the 1980's.
Later Helen launched the Community Action Network (known as CAN Mezzanine) which provides resources to voluntary organisations in the London area and beyond.
In her mid 70's she travelled to Africa to research why so many women were contracting AIDS and, at the age of 76, following a vision in the middle of the night, she started a charity to bring simple life-saving messages to the world's poor in their own language. Education Saves Lives now publishes digital lessons in 65 languages.
Helen died in 2020 and so far there has been no real opportunity to celebrate her extraordinary life. This lecture is designed to build on her energetic activities by inspiring new and creative partnerships between business and charity.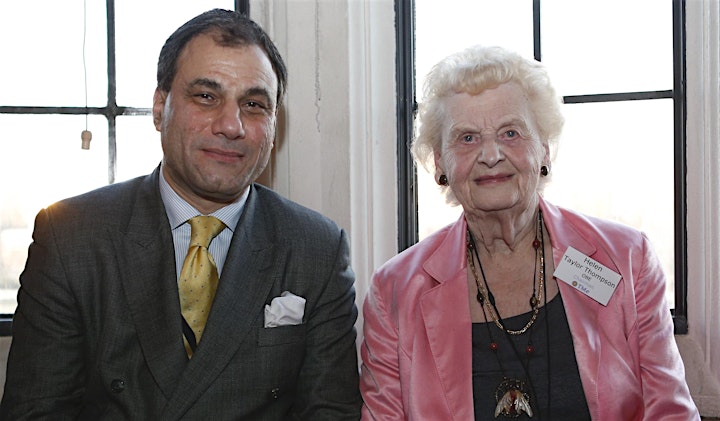 Karan Bilimoria and Helen Taylor Thompson at the House of Lords in 2017.
Organizer of Making the World a Better Place
Stephen Clarke is an international facilitator and trainer who will draw on his experiences from over 20 countries to create a session that will help you and the other particpants learn from each other.
Whether round-table, training or story telling session you will be sure to go away with a sense that your problems are shared by others and that common solutions may not be so far away.