About this Event
At PenCLAHRC we believe that better health care can be provided to patients by making decisions that are based on evidence. During this free event our expert tutors will help you to discover how to use evidence to make effective health and social care decisions.
We are delighted this year to welcome Dr Alex Burns as our keynote speaker. Alex is a GP with extensive experience tutoring on Evidence Based Medicine both here in the UK and in British Columbia, Canada. Alex is also currently undertaking his PhD "Uncertainty in cancer diagnosis" at the University of Exeter.
Workshops:
Workshops include: an Introduction to Diagnostics, Tracking Down the Evidence, an Introduction to Qualitative Research, Critical Appraisal of a Randomised Control Trial, Critical Appraisal of a Systematic Review & SHERPA (a new model for applying Evidence Based Practice in the context of multimorbidity).
More information on the individual workshops can be found on our website. More information on the SHERPA session can be found here.
PenCLAHRC Making Sense of Evidence Team
http://clahrc-peninsula.nihr.ac.uk/making-sense-of-evidence
peninsula-ebp@exeter.ac.uk +44 (0) 1392 726060 (Ext: 6060)
Draft Programme: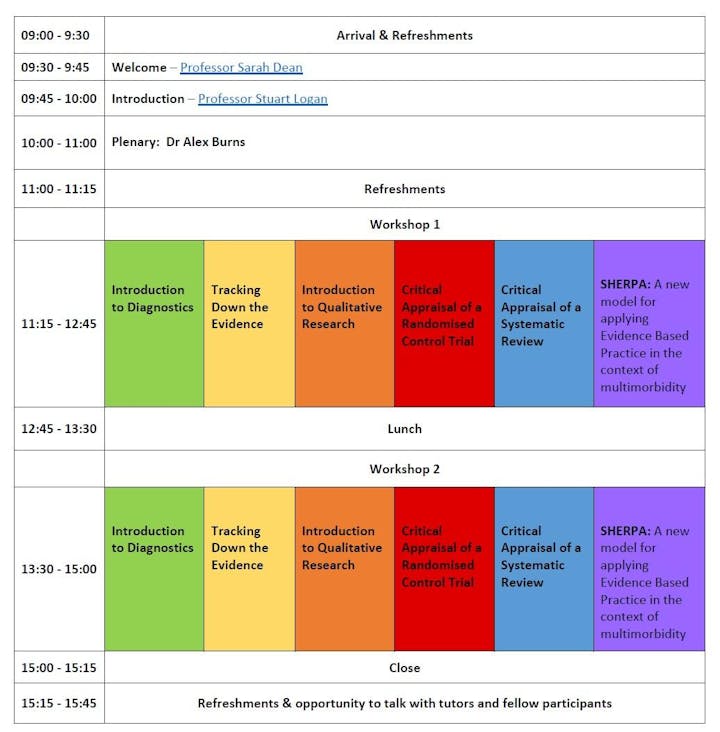 Additional Information:
Venue:
The Conference is taking place at Buckfast Abbey Conference Centre.
Workshop selections:
In addition to the plenary session attendees will have the opportunity to attend TWO workshops. Upon registration you will be asked to list THREE workshops that you would be interested in attending in order of preference and we will do our best to accommodate your choices. Workshop selections will be confirmed in advance of the conference.
Lunch and refreshments:
Lunch and refreshments will be provided. Please enter any dietary requirements when you register.
Joining Instructions and Pre Reading:
Joining instructions including any pre reading for your selected workshops will be circulated approximately 1 week in advance of the conference.
Directions and Travel:
Please see the Conference Centre's website for directions for arriving by car.
The nearest railway station to the venue is Totnes: it is served by direct trains from both Exeter St David's and Plymouth and by the Stagecoach no. 88 bus service, which passes Buckfast Abbey. Please see the National Rail Enquiries Journey Planner for details of trains to and from Totnes. A taxi fare from the station to the Conference Centre is estimated at around £15 each way, so it may be best to try to coordinate your travel plans with colleagues if you are intending to arrive by rail and taxi.
Registrations from outside of the South West:
While we are keen to accommodate anyone with an interest in the conference programme, we do need to give priority to applicants based within our geographical catchment area, i.e. Cornwall, Devon and southern Somerset. Please contact us if you are in any doubt as to whether you are likely to be eligible for a place.
Your data:
We utilise Eventbrite as a free and user-friendly method of collecting attendees' registration data and confirming bookings. You can view Eventbrite's privacy policy here.
In order to administer the conference, we will download the following personal data provided during the registration process and store it on the University of Exeter's secure server in a restricted-access folder: your full name, email address, phone number, job title, employing organisation, dietary and access requirements and any information you have provided on your clinical interests or reasons for attending the conference. We will contact you approximately one week prior to the conference with joining instructions and preparatory reading. We may also contact you at other times prior to the conference for logistical reasons. We may contact you after the conference to distribute any additional materials which may be of use, and to provide a certificate of attendance. To ensure that we can provide you with evidence of your attendance on request for a reasonable period of time following the conference, we will retain your contact information within a register of attendees for a minimum of 2 years.
If you have declared that you would like to be added to our mailing list for the Making Sense of Evidence programme, you will receive occasional communications from peninsula-ebp@exeter.ac.uk relating to other events in the programme which may be of interest to you or colleagues. We will not add your email address to any other distribution lists, contact you about other matters, or pass your contact details on to anyone not associated with the Making Sense of Evidence programme unless you explicitly give us permission to do so.