Refund policy
Contact the organiser to request a refund.
Eventbrite's fee is nonrefundable.
Learn how you can help create change in your organisation by understanding your service, your users and their needs and motivations.
About this event
Snook's practical introduction to Service Design, allowing you to learn by doing, supported through real-world experience and case studies.
This 2 day online course (2 x half days) is for anyone who is interested in a hands-on introduction to Service Design from Snook - one of the UK's leading Service Design Agencies.
Service Design is a human centred design process that takes into account how all parts of a service work together to meet not just the needs of the people that use it but also the organisations that deliver it and the planet we live on. It's much more than post-it notes and high fives. It gets to the root of systemic and complex problems and provides the tools and methods to deliver and drive sustainable change for people and for planet.
'People ignore design that ignores people'
Frank Chimero
This course will introduce you to the fundamentals of service design and how it's evolving to drive change within government, public and social sectors.
Building on examples from over a decade of Snook's experience designing and implementing services with clients, you will learn:
- How services are designed and created.
- How to develop the creative, collaborative and systemic mindset needed for service design.
- How and why the process of service design is adapting to support lean and agile ways of working.
- How to make use of practical tools and methods to take service design into your own organisation.
Snook co-founder Sarah Drummond, ex-Hyper Island Masters Director Tash Willcocks and Val Mitchell, Programme Leader of the MA in User Experience Design at Loughborough University worked together to create a vibrant, interactive learning experience which will equip you to start using service design in your work.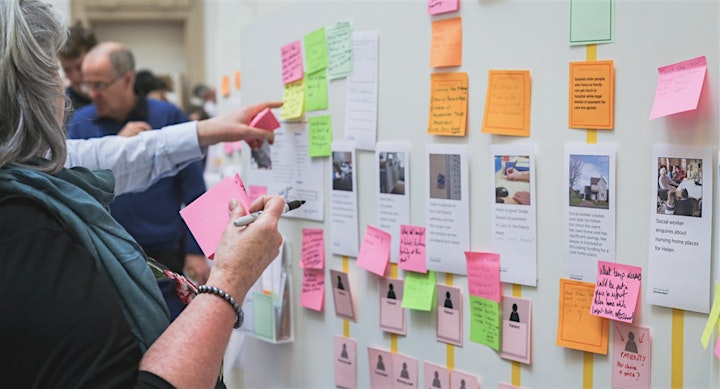 Through hands-on workshop activities, we will take you through how to use core service design tools and methods including:
- Customer journey mapping
- Using personas to inclusively represent the diverse needs of end users
- Service blueprinting
- Service prototyping
You will leave with practical knowledge and skills that we hope you will apply within your own role and organisation.
Drawing on Snook's experience, we will help you make sense of core service design frameworks and standards and the role of service designers within digital teams. We'll also explain how and why Service Design is evolving in response to the complex social, environmental and economic challenges facing our world. We promise to go beyond the Double Diamond to include practical advice on how to integrate service design into the agile design context within which digital services are designed and made. This is not a deep dive, but will enable you to make sense of service design.
Why Snook?
For over ten years Snook has been quietly revolutionising the private and the public sector, on a mission to make the world more human. We've built great products and services in a wide range of scenarios, putting people at the heart of the design process every time. We want to share what we have learned from these experiences with you so more people can benefit from the value service design brings.
This course is for
Those looking to transition into service design from other disciplines.
Those who work closely with service designers as part of their roles (for example business analysts and service improvement teams).
Client teams who want to understand service design better so they get the most out of working with service designers.
Individuals or teams who want to understand more about User Centred Design / Service Design and how to start using it in their every day practice
Accidental Designers, are you a designer who is self taught? fantastic, come align your practice and sharpen your skill & mindset with us.
The course is split over 2 days consisting of 2 x 3.5 hours facilitated learning sessions and 1 hour of content to consume at your own pace.
Tuesday - 27th September 9.00 - 12.30 UK Time
Wednesday - 28th September 9.00 - 12.30 UK Time
Numbers are limited to ensure time for interaction and teamwork.
"A fabulously thought provoking session, working with a curious group of thinkers and questioners to learn some of the tools of Service Design. The Snook team provided a thoroughly engaging and participatory workshop, bringing together diverse thinkers to collaborate on a live brief"
Imogen Aylwin, Design Researcher & Podcast Host at Headway
We reserve some free spaces for those on low incomes. These are limited but we will have more opportunities on courses coming out later in the year. If you're a student, on maternity leave or unemployed at the moment please contact us and say hello. We don't ask for evidence - we trust you. Please email tash.willcocks@wearesnook.com to be added to the ongoing waiting list.