Making the most of your powers for climate action: a workshop for cllrs
Location
The Dome Room
Hotel du Vin Brighton
2 Ship Street
Brighton
BN1 1AD
United Kingdom
A workshop for councillors
About this event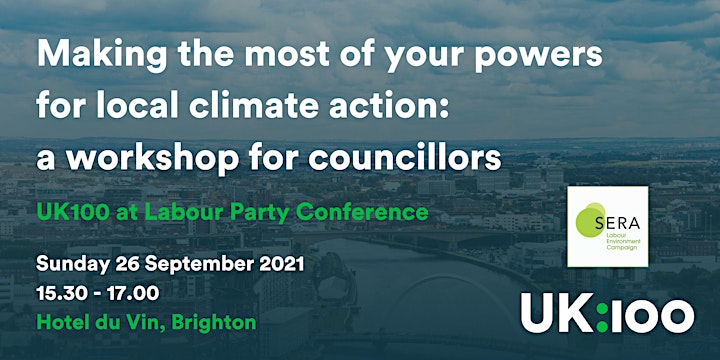 Speakers
Cllr Polly Billington, London Borough of Hackney, UK100 CEO and SERA Executive Committee Member
Cllr Lisa Trickett, Birmingham City Council and SERA Executive Committee Member
Cllr Chris Hammond, former leader of Southampton Council and UK100 Membership Director
UK100 and SERA invite you to a workshop for Labour councillors which will explore what powers exist at the local level to deliver Net Zero communities. UK100 is a network of local authorities that are committed to 100% clean energy in their communities by 2050. The most ambitious members have pledged to reach Net Zero in their communities.
But how can councils deliver on those pledges? Join Councillors Polly Billington, Christopher Hammond and Lisa Tricket as they share their insight on what councils can do to make change in their communities and deliver climate resilient and Net Zero cities and towns.
Venue
SERA's fringe events are based at Hotel du Vin, 2 Ship Street, Brighton, BN1 1AD in the Dome Room. The location is approximately four minutes walk from The Brighton Centre and outside the secure zone. If leaving The Brighton Centre, visitors should walk left onto Kings Road and take the third street on the left, Ship Street.
The venue is on the left-hand side of the road just after the main entrance for the Hotel du Vin when facing away from the sea. SERA's flags and signage should be visible.
About UK100
UK100 is a network bringing together local leaders from cities to the countryside to share knowledge, collaborate and make the case to national government for greater powers and funding to be able to deliver the Net Zero transition within their localities. Follow us on Twitter @UK100 and check out our website for our recent reports on subjects including local energy projects, local authority powers and green finance.