Description
Aims:
The aim of the day is to get to know local 'doers' and some of the coFWD coworking community, what makes them tick, what they're passionate about and the things they're working on. Come along to talk about your work, idea or a project you'd like to get off the ground one day. And never fear - this isn't one of those teeth-grindingly awful 'networking' events. There will be no pitching businesses or selling services.
Throw your idea out to the group and listen to their thoughts and hear a different take on things. Share where you get stuck, unresolved bits, hurdles, sources of frustration or where you'd like to take things next. Listen to other ideas and share your own strokes of genius and insights to help make other people's things more awesome. It's an opportunity to talk to some clever folk about your ideas and the related challenges and to gain insights and constructive feedback. And we'll supply a refreshing beverage or two. And possibly some cheese. Huzzah!
Timeline:
The following is a loose guideline rather than a rigid plan.
12 til 2pm: Session One
2pm til 3pm: Afternoon Tea and Brain Relaxation
3pm til 5pm: Session Two
Taking part:
Come along and talk about something you're working on now or an idea you would like to get off the ground one day. We'll aim to keep sessions around 20-30 mins each, including a group brainstorm/discussion. If you'd like to contribute ideas and thoughts but don't want to share your own thing just yet, come along as a brainstormer.
coFWD is a a self managed, independent coworking community. The £10 cover charge for this workshop will go towards helping us develop our space and providing future awesomeness.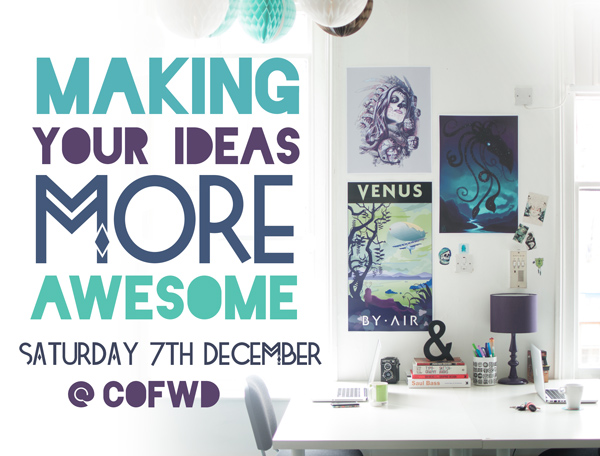 If you'd like to join us on Saturday 7th, it's essential that you let us know you're coming by registering via Eventbrite. We hope to see you there!

Please note, our venue is a very old bank building that is being slowly shaped by a community of individuals for long-term Community Interest. Sadly the startup project is in its infancy and being run on limited funds so the building currently has some accessibility issues. If you have specific access or disability requirements and would like to participate in an event or activity please let us know at least 5 days before the event date so that we can do our utmost to resolve any potential problems to accommodate.
Organizer of Making Your Ideas More Awesome
Welcome to coFWD. We're a self managed, independent community of people united by one common purpose – getting things done. More info available at http://coFWD.org