Location
Mirth, Marvel and Maud
186 Hoe Street
London
E17 4QH
United Kingdom
Description
"It was like Def Poetry Jam but in Shoreditch with gourmet samosas and Aunty Jee's Kashmiri chai." - Usaama Minhas, Poet, on our 2017 event


Summary (in case you're not bothered to read the rest)
It's Makrooh's one-year anniversary and we thought what better way to celebrate than to put on our biggest event yet! The evening will be full of performances by British Muslims, including spoken word and music, hosted in a beautiful historic cinema-turned-arts venue. And for the first time ever, we are offering our stage to the audience for an open mic!
Makrooh is about more than just entertainment – our events are a safe space for learning, growth and collective healing.
Performances by
Jum Faruq and Zahrah Sheikh (Storytellers)
Yasmeen Khan (Playwright and Radio Presenter)
Ayo Kalil (Spoken Word)
Sanah Ahsan (Spoken Word)
Fahima Hersi (Spoken Word)
Fatumina (Singer/Songwriter)
Important Event/Venue Details
£10 on Eventbrite, £12 on the door
18+ only after 8pm
Email accessibility requirements to info@makrooh.co.uk
Ticket includes entry and chai
Arrive at 6:30pm to get your cuppa and settle in
Entry is FREE for cats (this is a joke)
We will be selling limited edition Makrooh merch (cash only)
No alcohol consumption in the main theatre space
Venue is 5 min walk from Walthamstow Underground Station
There's free Wi-Fi (hell yeah)


✨✨✨✨ EVERYONE IS WELCOME! ✨✨✨✨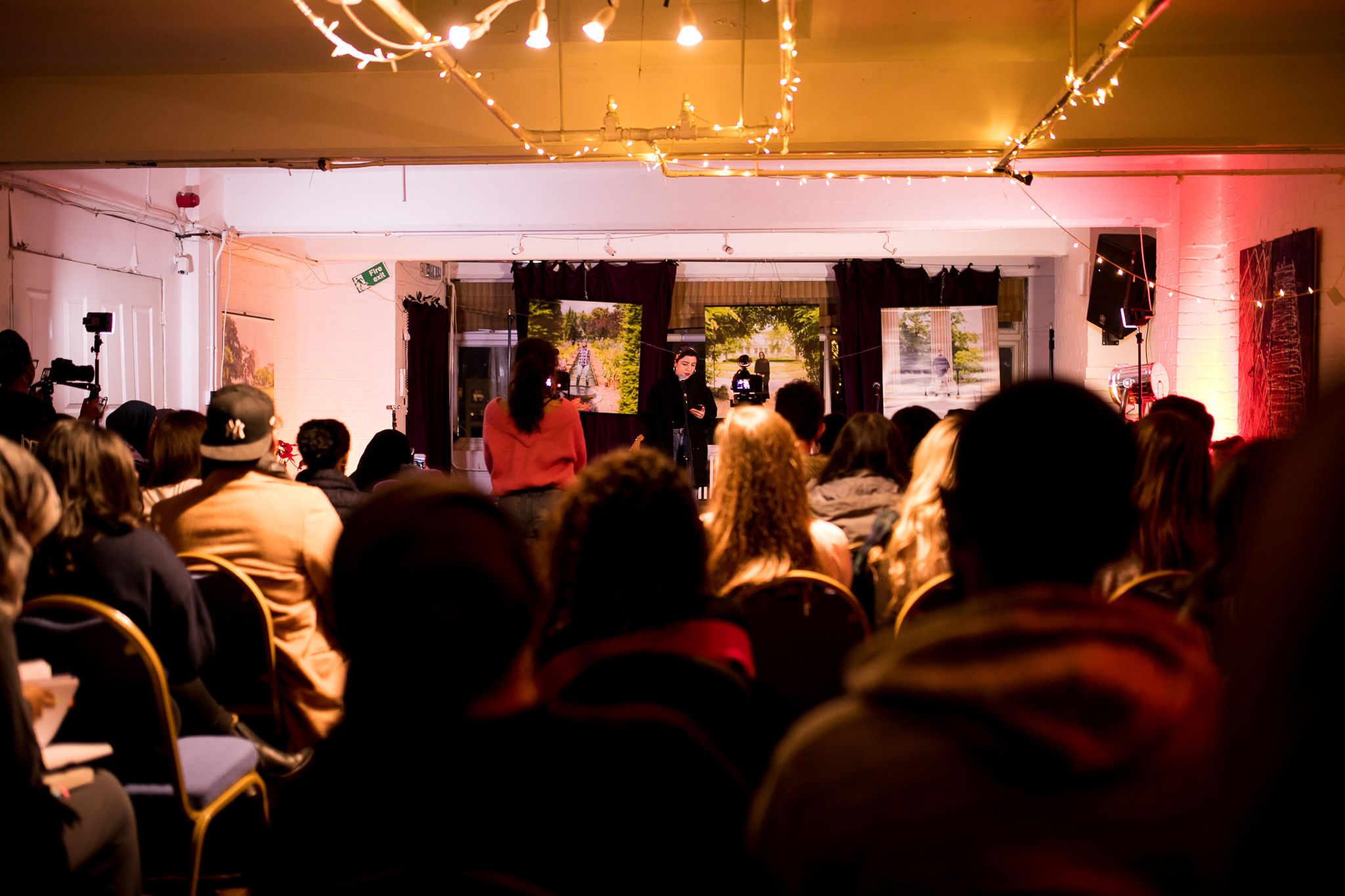 Uh, what is Makrooh again?
Makrooh is a passion project curated by three siblings. It's a platform that celebrates the diversity of British Muslims and creates a culture of kindness through spoken word events, creative meet-ups, panel discussions and exhibitions. Since it's launch in August 2017, Makrooh is not just a project anymore – it is a community.
Who is Makrooh for?
Makrooh is for people who identify as British and Muslim. Our aim is to bring the community together and celebrate the true diversity in Islam. Makrooh is for those who feel disconnected and need a space to understand themselves and others like them, with no shame or fear of judgement. Our events, however, are completely inclusive and are open for everyone to attend regardless of how they identify (just be mindful of our ethos).
Not convinced?
Well then, let's move swiftly on to...
Things people said (that we didn't pay them to say)
"I have no words for what Makrooh did for me tonight. I feel whole and needed. My poetry mattered and it was shared with the right people, people who just get it. I write for us. Thank you." - Amani Saeed, Poet, on our 2018 launch event
"I'm confident that more spaces like this will come to exist but I'm incredibly grateful that I got a first-hand experience of it through Makrooh." - Jannat Hussain, Artist
"The Makrooh Crew is on fire!" - Rabiah Hussain, Writer
"What an amazing night. So welcoming and makes you feel safe in being vulnerable and open in the comfort and love of the Makrooh audience." - Shagufta Iqbal, Poet
"I have felt so much warmth, kindness, friendship and happiness with Makrooh." - Meera Damji, Writer
"Shoutout to Makrooh not only for the work they do but how they're doing it in a way that's genuinely thoughtful." - Suhaiymah Manzoor-Khan, Writer & Poet
"It was inspiring and real and full of love, creativity, warmth and acceptance." - Shay Khan, Musician
"It literally could not have been more perfect." - Nadia Javed, Lead Singer of The Tuts
"This is not what I meant when I said join the family business." - Our dad probably
HOUSE RULES
No discrimination
This event is a safe space for people of all identities. Our main performers all identify as Muslim and are free to express themselves however they choose. We are only here to listen, learn and respect. Hateful or inappropriate behaviour will not be tolerated.
Check your privilege
If you attend as a non-member of the Muslim community, please be conscious of the space and the people around you. Our top priority is to keep this event as comfortable and joyful as we can for Muslims, so be mindful to not use this opportunity to judge or question people's identities and life choices.
Open mic rules
For the first time ever, we are offering a handful of open mic slots to our audience. Anyone of any identity can sign up at the ticket booth on the night. Bear in mind that if the slots get filled up, spaces will be allocated to Muslims first.
Film only with permission
Not all artists and attendees will want to be filmed or photographed for sharing on social media. Pay attention on the night to performers who ask not to be filmed and please be conscious when taking photographs with audience members in them.
Click, don't clap
Please leave applauses until the end of each performance. Feel free to click your fingers during performances as a display of enjoyment and appreciation. Clicking is less disruptive to the performer's flow and the energy they give to the room.
Trigger warnings
Some of the spoken word performances may touch on themes some people may find upsetting. Please contact us if this is a concern for you. If at any point during the show you feel uncomfortable, feel free to leave the main theatre space.
Respect those who pray
Bear in mind this is a space for Muslims therefore some people may break for prayer. Please keep noise levels to a minimum during this time.
Ticket price
The money made from the tickets will go towards covering the venue costs, refreshments and paying the performers. The excess will fund future Makrooh projects and events. We understand that not everyone can pay the £10 price and we want this event to be as accessible as possible. Email info@makrooh.co.uk if you cannot afford a ticket and we'll do our best to help.
SEE YOU SOON