An amazing outdoor movie experience at Much Hadham's Recreation Ground with a showing of the classic musical, Mamma Mia!
About this event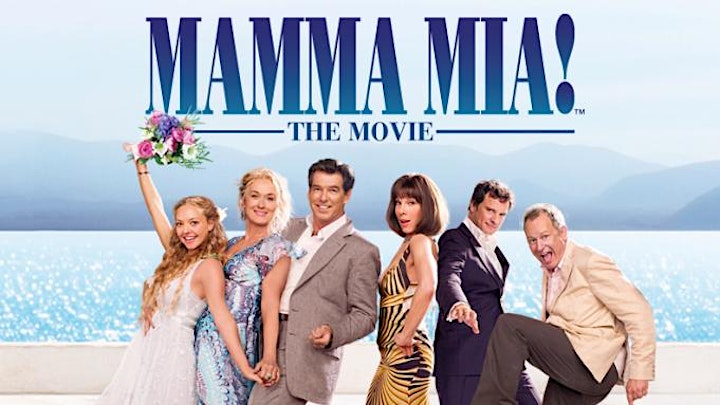 Bring a blanket or camping chair and watch the classic musical Mamma Mia on a giant cinema screen under the Much Hadham stars!
Take your seats, grab some fantastic food and drink, and socialise before the film starts. Then sing-along with friends and family to some ABBA classics!
Fully licensed bar, hot food, snacks, ice cream.
Gates open 6.30pm, film starts approx. 8.30pm
Film Overview
Meryl Streep leads an all-star cast in the feature-film adaptation of the beloved musical that has been seen by more than 30 million people in 160 cities and 8 languages around the world.
Bringing the timeless lyrics and melodies of iconic super group ABBA to movie audiences, Summer 2021 is the season for "Mamma Mia!"
Pierce Brosnan, Colin Firth, Stellan Skarsgεrd, Christine Baranski, Julie Walters, Amanda Seyfried and Dominic Cooper join Streep in this celebration of a mother, a daughter and three possible dads on an idyllic Greek island.
Over 24 chaotic, magical hours, new love will bloom and old romances will be rekindled on this lush island full of possibilities. Inspired by the storytelling magic of ABBA's songs from "Dancing Queen" and "S.O.S." to "Money, Money, Money" and "Take a Chance on Me," Mamma Mia! is a funny, joyous and raucous celebration of friendship and family.
Cast: Meryl Streep, Pierce Brosnan, Colin Firth, Stellan Skarsgεrd, Julie Walters, Dominic Cooper, Amanda Seyfried, Christine Baranski
IMPORTANT INFORMATION
ENTRANCE AND PARKING: This event is being held on the Much Hadham Recreation Ground. The entrance to this event will be from Tower Hill onto the Recreation Ground. We would encourage everyone who lives locally to please walk to the event. However, if you need to drive, there will be limited car parking on the Recreation Ground itself, again entering from Tower Hill. You will also be able to drop off disabled or other visitors near the entrance. If you are driving, please be very careful of pedestrians around the entrance gate, car park and field areas.
Please only drive and park where indicated. Our sports pitches will be taped off for their protection, please do not drive on them.
Please lock your vehicles. We will NOT be monitoring the car park area and all vehicles are left at their owners' own risk.
FOOD AND DRINK: Customers are politely reminded that they CANNOT bring their own food, drinks or alcohol to the event. Refreshments, snacks and hot food will be available as well as a fully licensed bar. Card and cash payments are accepted at this event, although we would encourage the use of card payments where possible.
THIS IS AN OUTDOOR EVENT ON GRASS : Please bring your own picnic blankets, chairs, cushions, etc. to sit on. Our cinema screen is large, however if you usually wear glasses when going to the movies or for driving, we recommend that you bring them with you.
CHILDREN: Please ensure that your children are with you at all times and are not allowed to wander off unaccompanied, especially once darkness falls.
WEATHER: We recommend you keep an eye on the weather and wrap up warmly if it's looks to be cold. The film will end around 10.30 pm so, whatever the weather, it will be cold by then! If the weather turns bad on the day, there will be some gazebos available for parties to share. Please do NOT bring your own gazebos as there will not be space to erect them. If there is extreme bad weather, the event may be cancelled at short notice.
STRICTLY NO GLASS: Our local authority licensing requires that we do not allow glass into the event. The Recreation Ground will be back in full public use immediately after the event and we cannot risk broken glass being found on the field, so please help us by not bringing any glass bottles, etc. with you.
STRICTLY NO DOGS: We love dogs, but we don't think this event is suitable due to the bright lights and loud noises, so we ask that you please leave them safely at home.
COVID-19 PRECAUTIONS:
You should not come to this event if you currently test positive for COVID–19 or if you need to self-isolate because you are displaying any COVID-19 symptoms (e.g. a high temperature, new and persistent cough, or a loss of/change in sense of taste or smell), even if these symptoms are mild. If you, or anyone you live with, have one or more of these symptoms you should follow the NHS guidance on testing and self-isolation.
We have an NHS Test and Trace QR code for this event. This will be on display at the entrance, if you want to check in using the NHS COVID-19 app. If you would like to check in but you do not have access to a smartphone or would prefer not to use the app, you will be able to provide your name and details at the entrance gate.
There will be hand sanitiser stations located in various places, including at the entrance, by the bar and food outlets and outside the toilet facilities. Please use the hand sanitisers provided and wash your hands regularly.
There may be congestion in certain areas; in particular at the entrance gate while tickets are being checked, at the food and bar outlets and in the toilets. Please be considerate and maintain social distancing in these more congested areas.
The food and bar outlets will all be able to take contactless card payments as well as cash. In order to reduce the risk of transmission of COVID-19, we would encourage you to use contactless payments where possible.