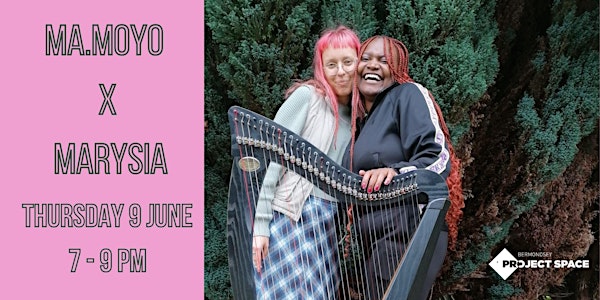 Location
Bermondsey Project Space
185 Bermondsey Street
#183
London
SE1 3UW
United Kingdom
An evening of live music and poetry from South East London based duo MA.MOYO X MARYSIA
About this event
MA.MOYO X MARYSIA is a collaborative music project by a South East London based duo made up of Zimbabwean poet/sound artist, Belinda Zhawi and Polish harpist/beatmaker, Marysia Osuchowska.
The project combines beats, electronics, harp, and poetry to create a distinct sound. They have performed at EARTHackney, Southbank Centre, King's Place amongst others and their work has been featured on Boiler Room, BBC, Worldwide FM and other similar platforms. MA.MOYO X MARYSIA are working on their first full length project.
For their performance at Bermondsey Project Space they explore themes of home, memory, city and dreamscapes.
Doors at 7pm
Performance start at 7.30pm
To use the PayPal Processing method please make sure you have enabled pop ups.
If you are still having trouble with the payment processing please click Pay At Door ( at check out) and your ticket will be reserved for payment and collection at the event
Advanced tickets £10+ processing fee. All tickets include a free drink