Sales Have Ended
Registrations are closed
We invite you to join our waiting list.
Sales Have Ended
Registrations are closed
We invite you to join our waiting list.
Managing a fair disciplinary process | Annual employment law masterclass
About this Event

As more staff work remotely, how your business deals with disciplinaries may need to be adapted, but it must still follow employment legislation. Our session will guide you in managing your disciplinary process fairly and address some of the challenges remote working presents.
About our speaker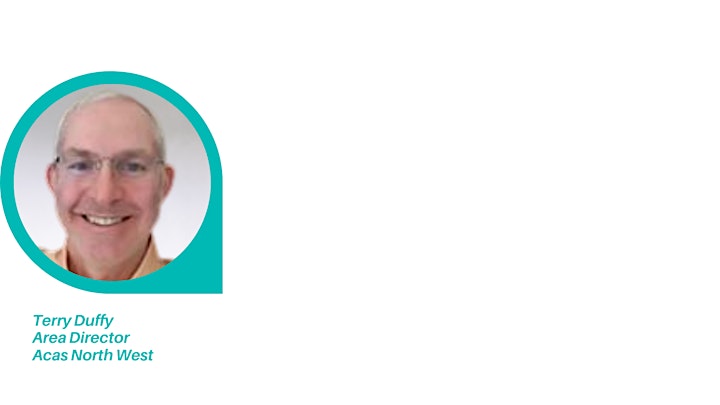 Terry Duffy, Area Director
Terry is the new Acas Area Director for the North West. He has worked for Acas North West since 2002 and has significant experience in handling numerous high profile collective trade disputes between trade unions and employers to resolve workplace conflict.
Since joining Acas, Terry has helped to resolve potential employment tribunal claims and has also worked with businesses and trade unions to design and deliver training and help improve management practices across the region.
As the third most populous region in the UK, the North West is one of Acas's busiest areas. In 2019, Acas NW dealt with over 18,000 individual conciliation cases and around 90,000 calls to the helpline from the North West.
Improving work for everyone is a key ambition for Acas. Locally Acas NW helps to deliver this by working with local partners to develop and promote Good Employment Charters.
'My aim is continue to deliver Acas's brilliant services to businesses and employees in our region, improving on it and providing for the people and businesses that employ people in the North West'.
~ Terry Duffy, Area Director, Acas North West

Additional sessions in the series
🎁 Gift box draw
One lucky attendee will receive a gift box of branded items (typically given away at our full-day conference). We'll be drawing the lucky winner's name out of a hat. Our gift box includes branded note pads, pens, screen cleaner, supermarket trolley token, post-its and tote bag.
Cancellation policy
If you find you are unable to attend the event, please give at least 7 working days notice so we can release your ticket to someone on our waiting list. You can cancel your ticket via the Eventbrite desktop site or send us an email at manchester-events@cipdbranch.co.uk and we will cancel your ticket.
Video & photography
By registering for our event you are giving your consent to our using any material that may be captured or recorded during the event, in future promotional material.
Connect with us
Follow us on Twitter, Facebook, Linkedin and Instagram. Visit our website and subscribe to our newsletter by completing the fields at the bottom of our CIPD Showcase page.