Event Information
Location
University of Chester, Warrington Campus
Crab Lane
Tucker Building, Room 001
Warrington
WA2 0DB
United Kingdom
Description
This free workshop will enable participants to reflect on some of the difficulties and challenges in assessing and supporting students who are perceived to be weak or failing. Specifically, given the over-representation of black students in placement and degree failure rates the workshop will enable participants to discuss why this is the case and what they can to address this issue.
The event is open to all social work staff, including practice educators. Continuing Professional Development certificates available on request.
The format of the morning will be:
10.00 - 11.00 Presentation: Managing and supporting 'failing 'and 'marginal' students', with a specific focus on Black and Minority Ethic Students (Gurnam Singh).
11.00 - 11.15 Break
11.15 - 12.00 Small Group work based on case studies
12.00 - 12.30 Plenary.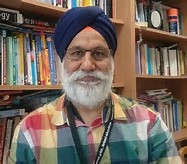 Dr Gurnam Singh is Principal Lecturer in Social Work at Coventry University and Visiting Professor of Social Work at the University of Chester. Prior to entering academia in 1993, he worked as a professional social worker and community activist. Gurnam is the author of 'Post-racial pedagogy - challenges and possibilities, race, ethnicity and education' (2016) and 'How can we make not break black and minority ethnic leaders in higher education' (2015). These and more of his works are available at http://www.coventry.ac.uk/research/research-directories/researchers/gurnam-singh/
Date and Time
Location
University of Chester, Warrington Campus
Crab Lane
Tucker Building, Room 001
Warrington
WA2 0DB
United Kingdom