About this Event

The complex nature of people's care needs is an increasingly important issue for health and social care agencies. Delivering effective services efficiently and in partnership with third sector and independent care providers is vital if we are to develop sustainable solutions to delivering health and social care services in complex situations.
This Symposium will explore the nature of providing complex care not just in terms of the needs of individual citizens but also the landscape in which care is provided. The Welsh Government Health and Social Services Division are endorsing the event, supporting its intended outcomes.
The Social Services and Wellbeing (Wales) Act 2014 (SSWBA) and the Mental Health (Wales) Measure 2010, have introduced two statutory planning processes; the Care and Support Plan (CSP) and the Care and Treatment Plan (CTP) respectively. These were designed to streamline care planning, putting the individual at the centre of their care.
The Delivery Unit undertook a 15 month qualitative study of the use of CTP in mental health and learning disability services. The study analysed the degree to which CTP, in its application, has achieved the intentions of the Measure. The study is believed to be the largest scale study of care planning undertaken within the UK to date.
Participants will be appraised of the findings from this study with consideration of the utility of care planning processes in mental health and learning disability services. The event will reflect on how this learning can be applied to broader health and social care approaches to planning multi-disciplinary care within the community and along pathways of admission to, and discharge from, hospital and other care settings.
The event will:
• Draw on experiences since the commencement of the SSWBA and the introduction of the CSP process, together with examples of where significant progress has been made to realise efficient and effective care through the use of coherent planning processes.
• Provide a detailed case study which will be used to highlight a recent real life case demonstrating the challenges of managing complex care needs.
• Provide significant time for plenary discussion of the issues raised and the means to affecting change.
This event is aimed at executives and senior managers responsible for the planning, commissioning and delivery of services together with those responsible for workforce development, service improvement and inspection.
The event is free of charge.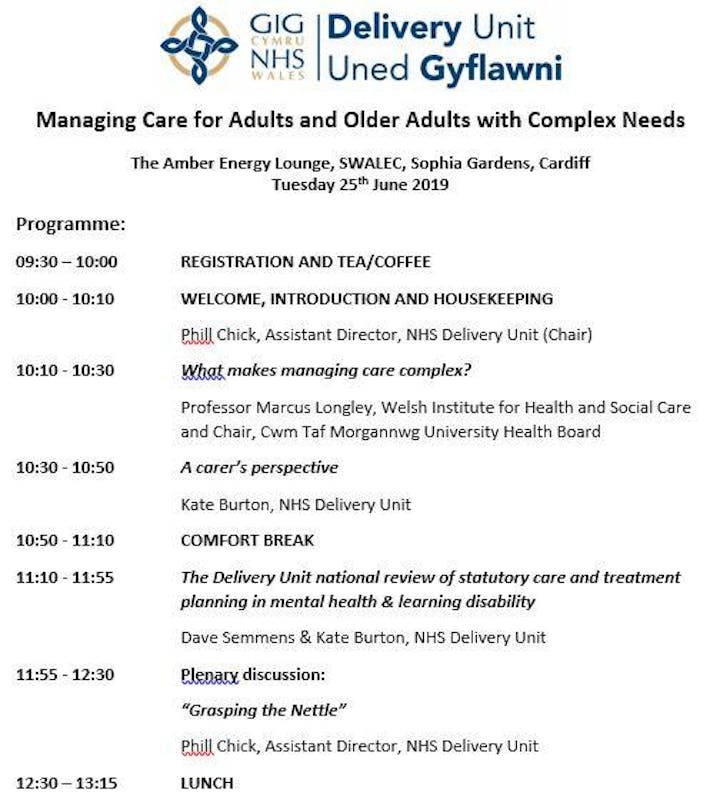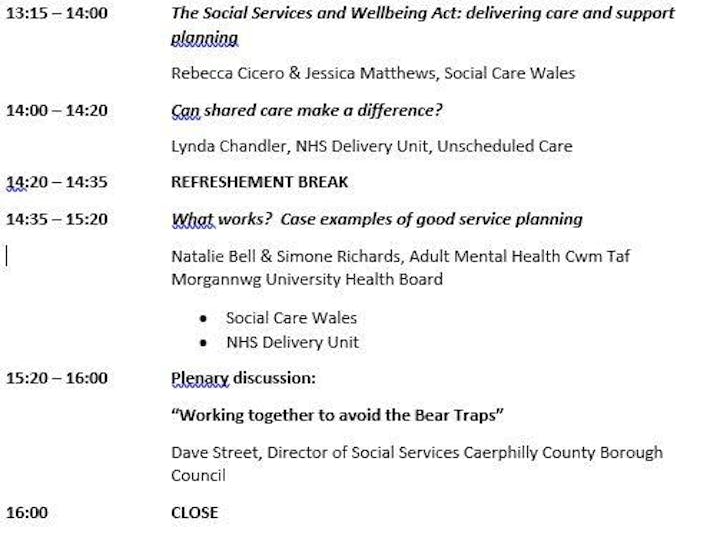 Managing Care for Adults and Older Adults with Complex Needs
The Amber Energy Lounge, SWALEC, Sophia Gardens, Cardiff
Tuesday 25th June 2019
Programme:
10:00 - 10:10 WELCOME, INTRODUCTION AND HOUSEKEEPING
Phill Chick, Assistant Director, NHS Delivery Unit (Chair)
10:10 - 10:30 What makes managing care complex?
Professor Marcus Longley, Welsh Institute for Health and Social Care and Chair, Cwm Taf Morgannwg University Health Board
10:30 - 10:50 A carer's perspective
Kate Burton, NHS Delivery Unit
10:50 - 11:10 COMFORT BREAK
11:10 - 11:55 The Delivery Unit national review of statutory care and treatment planning in mental health & learning disability
Dave Semmens & Kate Burton, NHS Delivery Unit
11:55 - 12:30 Plenary discussion:
"Grasping the Nettle"
Phill Chick, Assistant Director, NHS Delivery Unit
12:30 – 13:15 LUNCH
13:15 – 14:00 The Social Services and Wellbeing Act: delivering care and support planning
Rebecca Cicero & Jessica Matthews, Social Care Wales
14:00 – 14:20 Can shared care make a difference?
Lynda Chandler, NHS Delivery Unit, Unscheduled Care
14:20 – 15:20 What works? Case examples of good service planning
Natalie Bell & Simone Richards, Adult Mental Health Cwm Taf Morgannwg University Health Board
• Social Care Wales
• NHS Delivery Unit
15:20 – 16:00 Plenary discussion:
"Working together to avoid the Bear Traps"
Dave Street, Director of Social Services Caerphilly County Borough Council
16:00 CLOSE