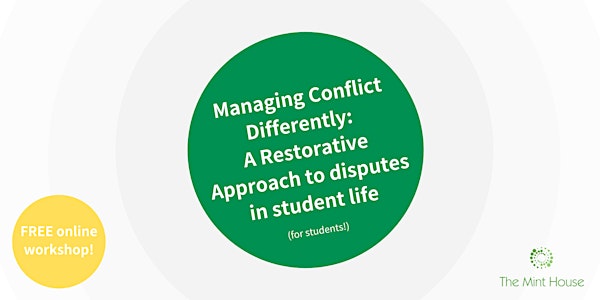 Managing Conflict Differently (Student Workshop - February 2022)
FREE two-hour interactive online workshop for university students introducing the principles and values of restorative practice
About this event
Managing Conflict Differently: A Restorative Approach to disputes in student life
This FREE two-hour interactive online workshop for university students (delivered over Zoom) will introduce the principles and values of restorative practice and look at what these can mean in managing conflicts in student settings and in creating safe spaces where individuals can speak openly and learn from the personal experiences of others. The workshop will be of particular interest to students with peer support or leadership roles, including roles in equalities and/or student welfare and wellbeing.
Workshop aims:
• Understand the principles of restorative practice and how restorative practice differs from traditional ways of addressing harm and conflict.
• Introduce restorative language and values and explore how these might support us to build connections with others.
• Reflect on how restorative practice is relevant to student life, its role in supporting respectful dialogue and addressing conflicts in student settings.
• Consider next steps – where do we go from here?
Cost: FREE
Booking essential!
For more information on The Mint House, see our website: