Join our guest speakers for a virtual session where we will explore how employers should manage and handle flexible working requests.
About this event
This is an online event via Zoom. The Zoom link will be sent to delegates via Eventbrite email 24 hours, 2 hours and 20 minutes before the event. Please check spam and junk folders.
This event may be recorded.
As businesses begin to return their workforces to site, there will inevitably be a rise in the number of individual flexible working requests. Many companies are reporting huge numbers of requests in proportion to their people numbers, particularly requesting to work from home, with many employees having an expectation that such requests should be granted.
Managing these requests can be difficult and risky, particularly when dealing with multiple, conflicting requests and if an employer wants to say 'no'.
Join Emma O'Connor, Director and Head of HR Training and Katie Harris, Associate, for a virtual training session where we will explore how employers should manage and handle flexible working requests.
During the 60 minute session we will focus on:
• Who and in what circumstances someone can make a request?;
• What should an employer do when it receives a request?;
• How should employers decide?;
• What are the 8 statutory grounds for refusing a request?;
• How will Covid-19/restrictions impact on requests?;
• What are the legal, commercial and cultural risks of saying no?
We will work through different scenarios and, as a group, share best practice as to how we can navigate the legal and practical guidance.
This course is aimed at those in leadership and HR whether as a refresher or as a chance to gain new skills and knowledge.
This course is run live virtual session allowing delegates the opportunity to share ideas, ask questions and discuss the learning outcomes.
ABOUT OUR SPEAKERS
Emma O'Connor, Director and Head of HR Training
Katie Harris, Associate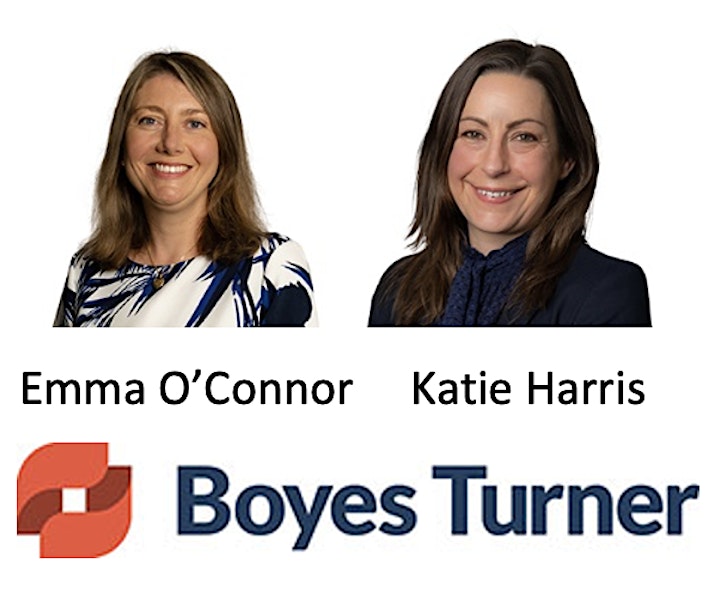 Based in the Thames Valley, Boyes Turner is ranked by leading legal directory guides Chambers & Partners and The Legal 500 as one of the UK's leading regional law firms and a "regional heavyweight."
We provide the full range of commercial legal services to many of the world's largest multinationals and leading UK and European businesses including Panasonic, Guardian News and Media Ltd and Auto Trader plc.
Emma O'Connor is a Director and Head of HR Training in the Employment team. She designs and delivers employment law, leadership and development and compliance courses to HR teams, managers and wider employee populations.
Katie Harris is an Associate in the Employment Team with over 10 years' experience practicing employment law for a number of leading firms working with a wide variety of clients from large multi-national corporates, SME's, and charities to private individuals. She is recognised in Chambers & Partners as a leading lawyer in the Thames Valley and praised for her personable, knowledgeable, reassuring and straightforward approach.
EVENT TIMINGS
The session will start at 11:30. For security reasons, it is requested that participants join the live session 10 minutes prior to the scheduled start time and with the same name as registered on Eventbrite as not doing so may cause a delay or non-admittance to the event.
Attendees will be admitted to the webinar in one group at 11:30 (start time). If you are late logging in, it may take a few minutes for us to admit you to the session once the session has started.
We might record the webinar and may share with people afterwards, including the uploading to CIPD channels. By attending the event, you are giving your consent for your image to be used on any CIPD promotional materials.
Organiser of Managing Flexible Working Requests in a Post-Covid world.
Thames Valley Branch is one of the largest CIPD branches in the country with over 4,300 members across Oxfordshire, Berkshire and North Hampshire.

We aim to support, inform and inspire everyone who has an interest in people management in the Thames Valley area. We offer an integrated programme of events throughout the year designed to meet the needs of our members, from students to senior practitioners, which provides opportunities for networking and continuous professional development. We offer specialist events and conferences focusing on specific groups of members and/or key HR and Development topics. We have two Special Interest Groups (SIGs): one for Independent Consultants, and one for members with an interest in Coaching and Mentoring.

Join our LinkedIn group, like our Facebook page or sign up to our email updates for the latest news and events information.