Managing the implementation of digital solutions in construction SMEs
This Digital Boardroom explores how quality in construction can be improved by using digital solutions, including snagging.
About this event
Developing Digital Leadership Skills in Construction SMEs
A free programme managed by the Gloucestershire Construction Training Group and funded by the CITB. It aims to improve business performance by adopting digital solutions.
Managing the implementation of digital solutions in construction SMEs
Many digital adoption projects fail because of poor implementation. This session explores how to introduce new ways of working successfully. Topics to be explored in this interactive session include:
Why does implementation fail?
Who is involved and what do they do?
When to involve end-users
The pace of change
Agreeing and communicating how the software will be used
Training
The role of 'Digital Champions'
Testing
Turning off the old ways and encouraging/enforcing the new ways of working
Considering the technical aspects
The support required by end-users
Who is this Digital Boardroom for?
This event has been designed for:
Owners and managers of UK construction companies
Company directors
Managers responsible for introducing digital solutions
HR and training managers
Note
As the sessions rely on the interaction between delegates, all participants need to use a webcam and microphone.
Digital Boardrooms
Digital Boardrooms bring together owners and managers of construction SMEs. They are designed to give leaders the skills to introduce digital solutions into their organisation and hence improve business performance. Sessions will explore ways to streamline, improve or remove processes and tasks that are repetitive, error-prone or time-consuming, with support and guidance from experts in digital solutions.
Each meeting includes:
A facilitated group activity exploring opportunities to improve business performance
Discussion of one specific aspect of digital adoption, such as evaluating potential solutions, culture change or implementation
Signposting to information about the technical considerations of digital adoption
Next steps
Delegates can join the programme at any time, but we hope they will attend all or most Digital Boardrooms to create a trusted peer support group.
Joining instructions will be sent 24 hours before the start of the event. If you do not receive them, please email info@gctraining.group.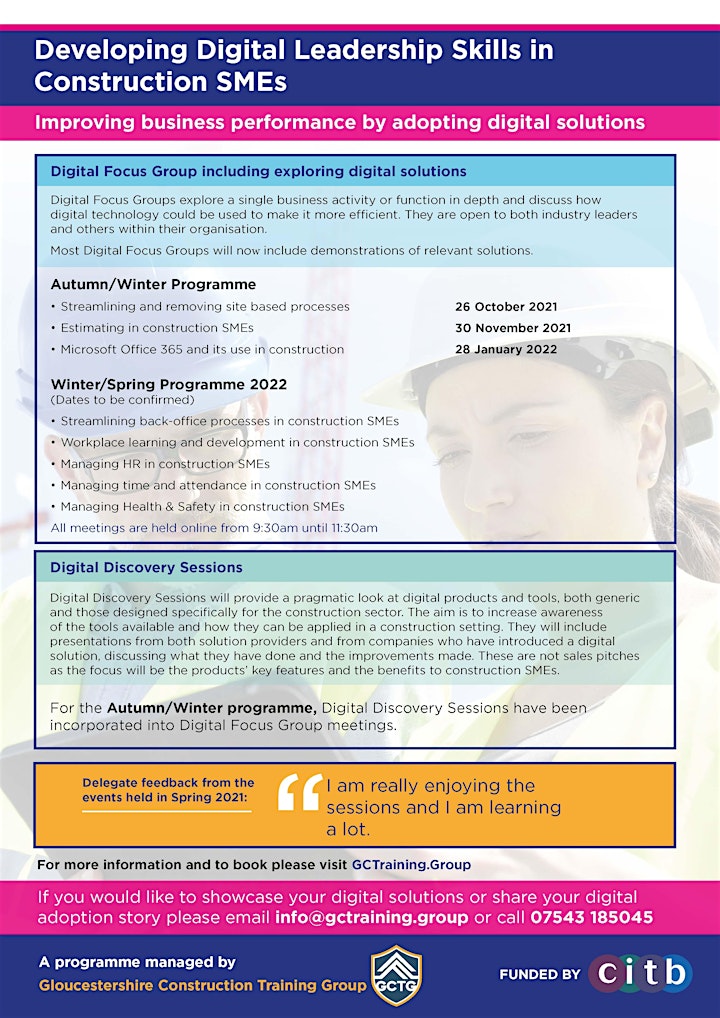 Organiser of Managing the implementation of digital solutions in construction SMEs