Description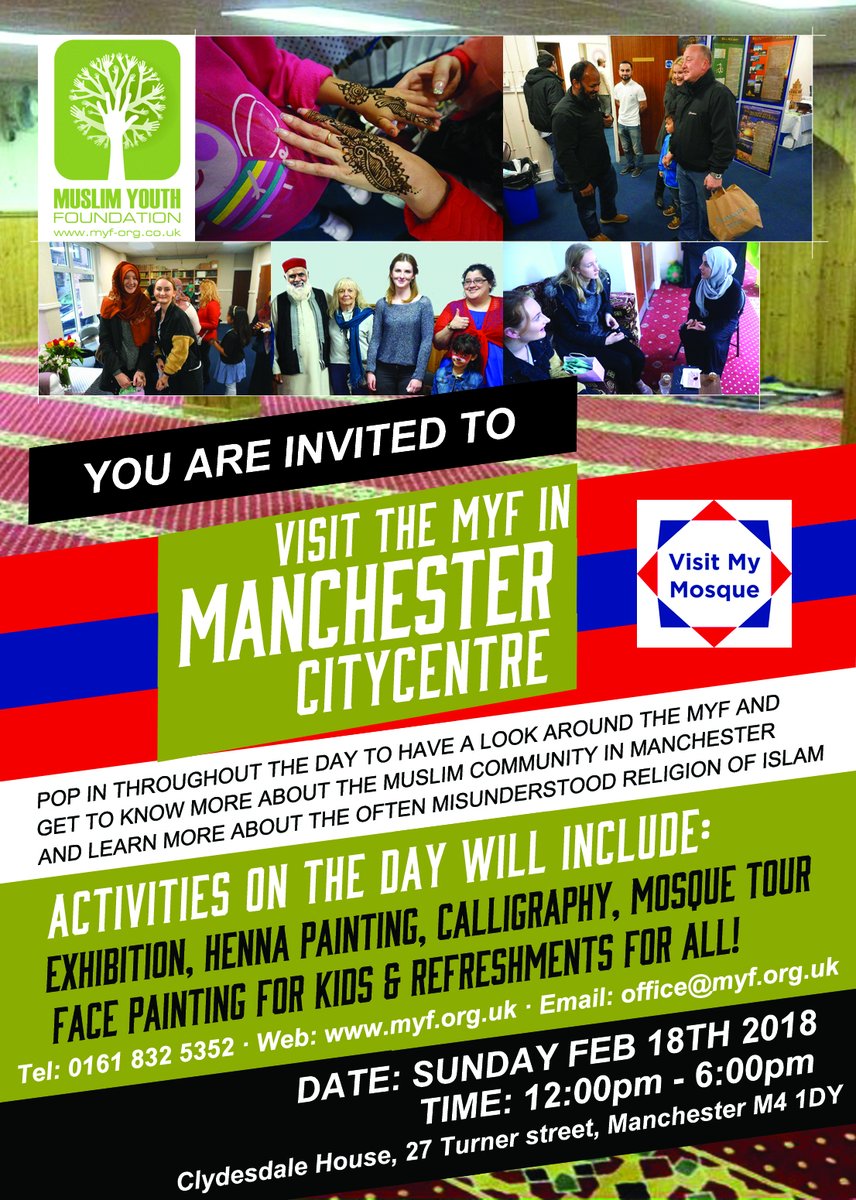 #VisitMyMosque: A national initiative which involves mosques from around the country inviting the whole community to visit their local mosque.
Featured: * Guided Tours, * Observe Prayer, * Opportunity to ask questions, * Engaging discussion, And much more!
No registration needed, just turn up!

Facebook events page: fb.com/events/334145687065249/

To volunteer visit: visitmymosque.org/ambassadors/
To register your mosque: visitmymosque.org/register/
#VisitMyMosque day is a national initiative facilitated by the Muslim Council of Britain (MCB).
Featured mosques include:
Altrincham Islamic Cultural Centre,

Grove Ln, Hale, Altrincham WA15 8JQ - 3-6pm
Cheadle Mosque (CMA), 377 Wilmslow Road, Heald Green, SK8 3NP - 11-4pm
Dar Ul Uloom Ghamkol Shrarif, Stamford Road, Longsight, Manchester, M13 0ST - TBC
Eccles & Salford Mosque, 5 Liverpool Road, Eccles, Manchester M30 0WB - 12pm–5pm
British Muslim Heritage Centre, College Road, Whalley Range, Manchester, M16 8BP - 2pm-5pm
Khizra Mosque, 425 Cheetham Hill Road, Manchester, M8 0PF - 12-4pm
Manchester Islamic Institute, 5 Sidney Street, Manchester, M1 7HB - 10am-5pm
Muslim Youth Foundation (MYF), 27 Turner Street, Citycentre, Manchester. M4 1DY - 12pm-5pm
UKIM Madina Masjid, 2 Barlow Road, Levenshulme, Manchester, M19 3DJ - TBC
Didsbury Mosque, 271 Burton Road, West Didsbury, Manchester M20 2WA - 12pm-6pm
Bolton
Zakariyya Jaam'e Masjid, 20 Peace Street, Bolton, BL3 7LJ - 11am – 4pm
Taiyabah Mosque, 31A Draycott Street, Bolton, BL1 8HD - TBC
Masjid-e-Ghosia, Caroline Street, Bolton, BL3 6SX - 1pm-3pm
Masjid-E-Ali, Wigan Road, Bolton, BL3 4QH - TBC
M A Mission Learning Centre, 365 Halliwell Rd, Bolton, BL1 8DE - 1pm-4pm
Oldham

European Islamic Centre, Werneth House, 79 Manchester Road, Oldham OL8 4LN - 11am–5pm
Masjid Noor E Islam, 44 – 46 Manchester Road, Oldham, OL97AP - 11am – 5pm
Madina Institute Masjid, Jackson Street, Clarkesfield, Oldham OL4 1HU - TBC
Masjid Azmet E Islam, 79-85 Retford Street, Glodwick, Oldham, OL4 1BL - 11am-5pm
Rochdale

Greengate Jamia Masjid, 88 Greengate Street, Glodwick, Oldham OL4 1DY - 12pm-5pm
Bilal Mosque, Bulwer Street, Rochdale, OL16 2EU - TBC
UKIM Neeli Mosque, 25-27 Hare Street, Rochdale, OL11 1JL - 12-4pm
Jamia Masjid Chashtiah, 149 Milkstone Road, Rochdale OL11 1EB - 5pm-7pm
Bury

Bury Islamic Centre & Mosque, Church Street, Bury, BL9 6BN - TBC
Jamia Khizra Mosque, 23-25 Parker Street, Bury, BL9 0RJ - TBC