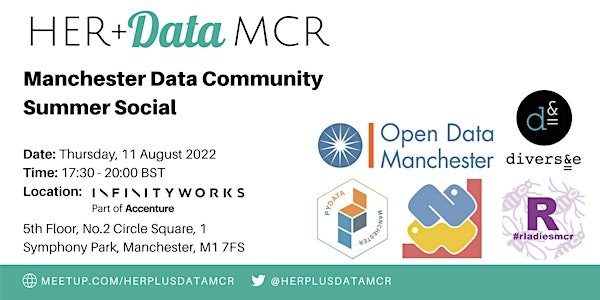 Manchester Data Community Summer Social
Location
Infinity Works, part of Accenture
No.2 Circle Square
1 Symphony Park
Manchester
M1 7FS
United Kingdom
Manchester Data [and Tech] Community Summer Social to bring everyone together again and hear more about each of these groups' activities.
About this event
HER+Data MCR is a community working to connect, inspire, support and empower the NW UK's Women in Data. Our goal is to bring together women who work in data or who would like to work in data - to support one another, share experiences and talk data - big or small! Whether you're a student just embarking on a career or a seasoned data professional, this group is for you. We want to connect and inspire amazing data women with diverse expertise and experience.
For our August 2022 event, our friends Diverse & Equal Tech NW, Open Data Manchester, PyData MCR, Python North West, and R-Ladies Manchester will join us to host a Manchester Data [and Tech] Community Summer Social to bring everyone together again and hear more about each of these groups and their activities. So please register to come along to connect and network with others in the Manchester data/tech community - everyone welcome!
The venue, food and drinks are very generously provided by Infinity Works. The event will take place at their Manchester hub: 5th Floor, No.2 Circle Square, 1 Symphony Park, Manchester, M1 7FS.
Diverse & Equal are a TECH FOR GOOD organisation. Tech already changed the world. We believe that an inclusive and equitable Tech sector improves things for everyone. Our goal is to affect real, long-lasting change whether that be with organisational culture or the digital careers of the talented adults we retrain. Get in touch with us to see what we can do for you or your organisation.
Open Data Manchester is a not-for-profit formed from a diverse group of open data advocates in 2010 that supports organisations to release data and helps people use it. We bring people together to share expertise and ideas, and think more about how we might use data to make Greater Manchester a better place to live. We run events, training and workshops, do research and create new projects that get the community involved, all designed to help more people understand data.
PyData MCR is the Manchester chapter of the International PyData Community. For Manchester based data people, to share and learn new things. All open data tooling welcome, we are not python focused.
Python North West meet monthly on the third Thursday of each month to discuss all things Python. Open to Pythonistas of all ages and abilities for talks, discussion and programming sessions, come along if you want to learn, teach, or just talk about anything and everything Python related.
R-Ladies Manchester are part of the global network of R-Ladies Meet-ups whose mission is to promote gender diversity within the R User community. Whilst we've been on hiatus over the course of the pandemic we have two fabulous new organisers, Zoe and Jasmine, joining Ellen to pick up the reigns and get events happening once again. When we are able to meet, we welcome anything and everything R related and have previously hosted show and tell presentations, networking events, coding surgeries and social quizzes. We're really looking forward to coming back and seeing what everyone's been working on – please reach out if you've been doing anything amazing or want to know more!
By registering for this event, you agree to abide by our Code of Conduct.