Description


Manchester Energy Event
Get a grip on rising energy prices & water deregulation in 2017
WHEN: Thursday, March 2nd, 7:30am to 10:30am
WHERE: The Lowry Hotel, Manchester (breakfast & refreshments)
WHO: Energy/utility managers & stakeholders
Gain invaluable insights from industry experts and major business users of energy and water. This event is a must for all energy managers and stakeholders looking after your organisation's utility management.
Topics to include:
Why are energy prices rising and what does the future of the market

look like?

What is the best energy strategy and how can businesses deliver this?

What does water deregulation mean for businesses and how can they

take advantage of a devolved market?

Are energy efficiency improvements real and how can they be

measured?

The Government's capacity market changes could add 5-10% on to a

business' bills for 2017/18; but what is this and how can businesses

manage the change?
Hosted by Businesswise Solutions and supported by DONG Energy and Water Plus (the newly merged retail arm of United Utilities & Severn Trent), our panel of industry experts and major business energy users from property, retail and Manchester's thriving hotel sector will debate these key policies and share their views, knowledge and experiences in all areas of utility management.
Hosted by leading business commentator Chris Maguire.
Expert panel guests:
Paul Miller - Head of Customer Solutions, DONG Energy
Neil Sullivan - VAS Business Development Manager , Water Plus
Mark Mercer - Operations Manager, Electricity North West
Adrian Ellis - General Manager – The Lowry Hotel, Chairman – Manchester Hoteliers Association
Chris Hughes- Property Portfolio Manager, Matthews & Goodman
Colin Bell - Head of Procurement, Daisy Group
Rebecca Noon - Facilities Manager, ao.com
Peter Haslop - Technical Director, British Plastics Federation
Frazer Durris - Managing Director, Businesswise Solutions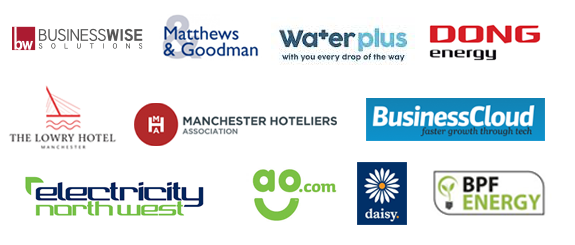 Organiser of Manchester Energy Event
Businesswise Solutions provides a total utility procurement and management service to clients operating in the mid-market and corporate arenas.
The company designs and delivers smarter buying strategies to help clients reduce indirect spend and increase profitability.
Our team of expert consultants support clients with a full suite of value added services including audits, bill validation, consumption reporting and price watch strategies. All this, coupled with outstanding customer service and full account management.