Manchester Moving to Portugal Show & Seminars - 14 November 2019
Description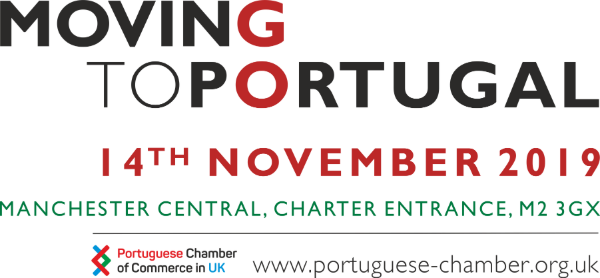 The next Moving to Portugal Show & Seminars will take place on
Thursday 14th November 2019
at the Manchester Central, Charter Foyer Entrance, Windmill Street, Manchester M2 3GX
Seminars start at 11.30am, 3pm and 6.30pm. The event will open at 11am and close at 9pm
NCP car park available: use the link here to pre-book (use the code MCEXHIB14 when booking which will allow to purchase a day ticket for a discounted price of £14). Please note that this discounted code is only valid when using the pre book service.
---
The Moving to Portugal Show & Seminars are designed to answer all the questions you may have about how to organise your move to Portugal, - whether you intend to run your business from there, invest there, retire there or simply spend several months a year there to escape the English climate.
Alongside the seminars some carefully chosen members of the Chamber will also be exhibiting, giving visitors the opportunity to ask questions about any potential move to Portugal.
Exhibitors will include estate agents from all regions of Portugal so visitors can see the different property options available, and representatives from some of Portugal's best established resorts and golf courses.
Confirmed exhibitors include: Blevins Franks; Currencies 4 You; Global Citizens Solutions; Fine & Country Algarve; Quinta do Lago; Abacus Gibraltar; Just Madeira; Edge International lawyers; AFPOP, Cris Piessens Clinic and Kleya.
On the day, the doors will open at 11am and close at 9pm. The first seminar begins at 11.30am and will last approx. two hours, with a coffee break in the middle for half an hour. The seminar will then be repeated at 3pm and 6.30pm. The seminars are free to attend but due to their popularity it is necessary to reserve your place in advance.
For more information please visit www.movingtoportugal.org.uk
Within each seminar there will be 6 short (15 minute) presentations from specialists on the following subjects:
where to buy - where are the property investment hotspots?

the legal aspects of buying a property in Portugal

how to plan your tax and financial affairs in advance of the move

how to structure mortgage finance

how Portugal's Non Habitual Residence (NHR) tax programme works

aspects of healthcare, residency and later living in Portugal

how to plan your currency needs
Alongside the exhibitors, staff from all the companies presenting at the seminars will be present throughout the day on their stands to answer your questions and to talk in private with you.
Come along and meet us all, try some Portuguese wine, and plan your move towards a sunnier lifestyle!
---
For many years, UK nationals wanting to retire to a more relaxing lifestyle in sunnier climes have chosen to move to Portugal.
From the golf courses, beaches and restaurants in the Algarve to the vineyards and culture of Porto, Lisbon and the north, there is a home and way of life to suit everyone.

Moreover, UK nationals moving to Portugal can now benefit from Portugal's very favourable 'non-habitual residence' tax rules during their first ten years in Portugal.
About the Seminars
Our seminars focus on some of the practical aspects UK nationals should consider ahead of a move such as:
Where should I move to?
What do I need to be aware of when buying property?
How does the Portuguese health system work?
How do the 'non habitual residence' tax rules work and would I qualify?
How will I be taxed?
What are the implications of Brexit?
How can I minimise the impact of a falling pound?
---
For more information contact us at info@portuguese-chamber.org.uk
Official guidance - Living in Portugal - https://www.gov.uk/guidance/living-in-portugal