Location
Impossible
36 Peter Street
Manchester
M2 5GP
United Kingdom
The next MancSEO meet-up is on Thursday 5th March . We're hosting at Impossible. Four great SEO talks, with drinks + networking.
About this event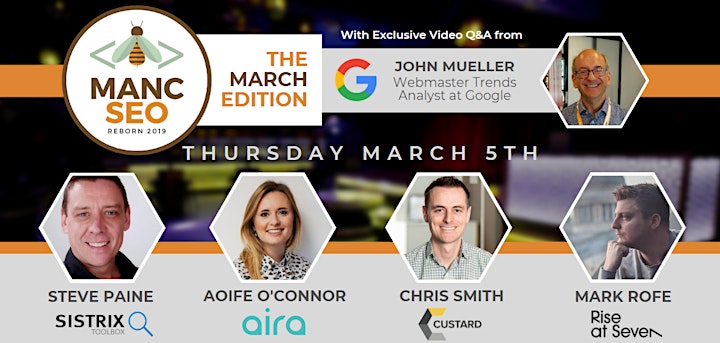 4 x SEO talks, followed by SEO chat/networking
Free to attend
Free drinks (range of alcoholic & soft drinks)
Giveaways
Swag & stickers
The event starts at 6.30pm with talks beginning from around 7pm. We have the venue booked through to midnight, with a private bar and plenty of space for networking following the talks.
The event takes place in the amazing theatre downstairs at Impossible, Great Northern.
We have room for loads of people and a stage for the speakers ;) Entry is via the side doors - go left past the main doors and they're on the corner. You'll see a bouncer and will need your ticket on your phone or a printed copy to get in.
Due to a packed speaker line-up, we unfortunately won't be putting on food - however All Star Lanes (in Great Northern) are offering MancSEO attendees 20% off food and drink all day on Thursday 5th March! Either grab a big lunch or head there after work. Just use code MANCSEO to book.
Questions? Email: hello@mancseo.co.uk
Talks
Steve Paine - State of the SERPs Data Report: UK Retail
Aoife O'Connor - How to overcome the challenges of running a high performing digital PR team
Chris Smith - SEO vs. PWAs : What could possibly go wrong?
Mark Rofe - Lessons & tips from building 100+ websites
John Mueller - Exclusive Video Q&A : Answering questions from the MancSEO Community
Sponsors
The bar is being supported by our amazing sponsors:
Supporting event
Sistrix will be running one of their superb training sessions the day before - Wednesday 4th March :) Limited places so sign up here!
Get involved
MancSEO is Manchester's SEO community - rebooted in 2019. We have an active Slack group with over 250 people from around Manchester involved. You can join by leaving your email address here:
Find out more details at: https://www.mancseo.co.uk
---
See you on 5th March!