Location
Impossible
36 Peter Street
Manchester
M2 5GP
United Kingdom
The next MancSEO meet-up is on Tuesday 12th November . We're hosting at Impossible. Four great SEO talks, with drinks + networking.
About this event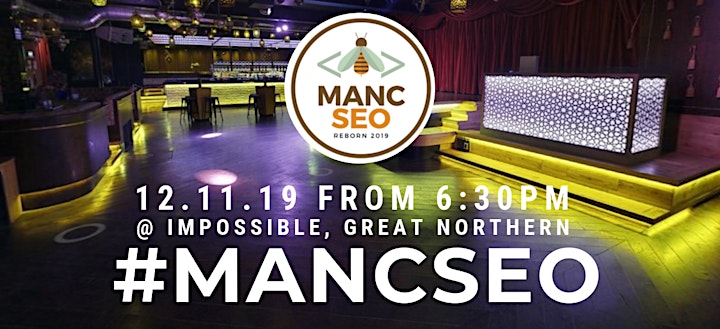 4 x SEO talks, followed by SEO talk/networking
Free to attend
Free drinks (range of alcoholic & soft drinks)
Giveaways
Swag & stickers
The event starts at 6.30pm with talks beginning from around 7pm. We have the venue booked through to midnight, with a private bar and plenty of space for networking following the talks.
The event takes place in the amazing theatre downstairs at Impossible, Great Northern.
We have room for loads more people this time round and a stage for the speakers ;) Entry is via the side door - go left past the main doors and round the side. You'll see a bouncer and will need your ticket on your phone or a printed copy to get in.
Due to a packed speaker line-up, we unfortunately won't be putting on food - however we've negotiated a great deal with Home Sweet Home (right opposite the venue). They're giving MancSEO attendees 20% off the whole bill (food & drinks) up to the start of the event. So either pop straight from work before the event, or grab a big lunch ;)
Questions? Email: hello@mancseo.co.uk
Talks
Rory Truesdale - How to analyse the SERPs for SEO, content & customer insights
Dom Hodgson - The secret to side projects, and why you should have one
Jane Hunt - How data-led campaigns can increase link opportunities
Dave Ashworth - "The test site has been indexed again" (& other common mistakes when launching or developing a site)
Sponsors
The free drinks are being made possible by our amazing sponsors:
Supporting event
Sistrix will be running one of their training sessions earlier the same day :) Limited places so sign up here!
Get involved
MancSEO is Manchester's SEO community that has been rebooted in 2019. We have an active Slack group with over 250 people from around Manchester involved. You can join by leaving your email address here:
Find out more details at: https://www.mancseo.co.uk
---
See you on 12th November!