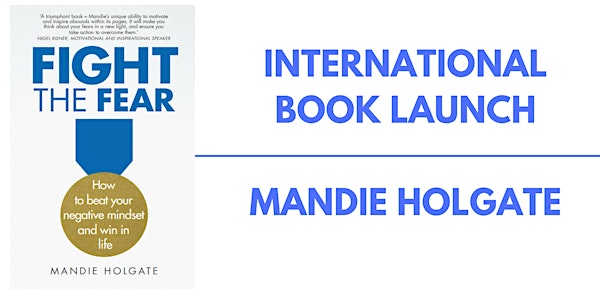 Mandie Holgate Book Launch; Fight The Fear - How to beat your negative mind...
Location
80 Strand
BaxterStorey Pearson
London
WC2R 0RL
United Kingdom
Description
It's with great pleasure I invite you to join me for the launch of my book "Fight the Fear - How to beat your negative mindset and win in life".
Do you know what's standing between you and success?
It's you!
Change your mindset to deal with your fears and you will increase your chance of success.
Fear of failure.
Fear of public speaking
Fear of being you
Fear of asking for what you want
Fear of saying NO and fear of change
The list is endless, and yet we all have fears that hold us back. Fight the Fear will help you get the results you want by helping you to overcome your fears one step at a time.
In short, easy-to-read, jargon-free chapters, you'll discover proven strategies, skills and tools to help you deal with the situations we all dread such as saying no, appearing confident without being arrogant, asking for what you want, public speaking and picking up the phone.
CHANGE THE WAY YOU BEHAVE EVERY DAY, YOUR THOUGHTS, YOUR BELIEFS AND YOUR VALUES AND GAIN THE RESPECT YOU DESERVE.
'A triumphant book – Mandie's unique ability to motivate and inspire abounds within its pages. It will make you think about your fears in a new light, and ensure you take action to overcome them." NIGEL RISNER, MOTIVATIONAL AND INTERNATIONAL SPEAKER AND BEST SELLING AUTHOR
'Packed with tips,tools, strategies and techniques to conquer fear and live your life to the full. I would highly recommend this book to anyone that wants to supercharge their life.' PETE COHEN, LIFE COACH, MOTIVATIONAL SPEAKER AND BESTSELLING AUTHOR

Having coached 1000's of people to overcome their fears that hold them back from success. I understand how to get the results you want. I don't hold back. I care deeply and I get results. This is a great opportunity to network in this stunning venue, get your signed copy and guest speaker Pete Cohen and Endorser of the book will be speaking too!

If you want more success in 2017, if you feel you have "stuff" holding you back this free to attend event is NOT to be missed!
I ask ONE favour.
Please do not book a ticket unless you guarantee to attend. We do not have time for no show's.Guests need to be signed into this venue and so please only book your ticket if you really want to take on those fears, take on the world and get the results you want!
Media
Voom media are handling Press enquiries and all publications are welcome to attend. Please contact mandie@mandieholgate.co.uk and vanessa@voommedia.co.uk for futher information and to discuss your requirements. Thank you.
Sponsoring this event
If you would like to be considered to sponsor this event please contact mandie@mandieholgate.co.uk in the first instance, Thank you.
Can't attend this event and want to know more?
You can sign up to my newsletter here and join me live
On my newsletter I will be giving one lucky reader the chance to read a chapter BEFORE the book comes out!