Description
London Graphic Novel Network's Manga Meetup:

Sunday 1st July 2018
12:30pm to 4pm
Shoe Lane Library, 1 Little New St London, EC4A 3JR
Visit Shoe Lane Library the first weekend of July! Meet other manga fans, borrow manga from the library, get some new recommendations, practice making your own Yonkoma Manga (4 panel comic-strips), test your knowledge in our Manga Quiz, buy some manga-inspired comics from artists, and meet previous entrants of the Manga Jiman Competition.

Schedule:
12:30pm: Doors Open for Entry
12:45pm: Manga Jiman Interview
1:15pm: Manga Workshop + Show & Tell
2:00pm: Manga Quiz with a prize
3:00pm: Manga Discussion & Recommendations

4:00pm: Bar/Restaurant Meetup
In association with Manga Jiman Competition 2018: @MangaJiman. Enter the 2018 Competition now!
With the winner of Manga Jiman Competition 2017: Shangomola Edunjobi. Buy his One Page Comic Collection on Amazon.
With help from The Manga Forum Podcast: @TheMangaForum. Suscribe to them on Twitch.
And with help from Mayamada: @Mayamada Back their Kickstarter campaign for Hot Lunch Vol 1.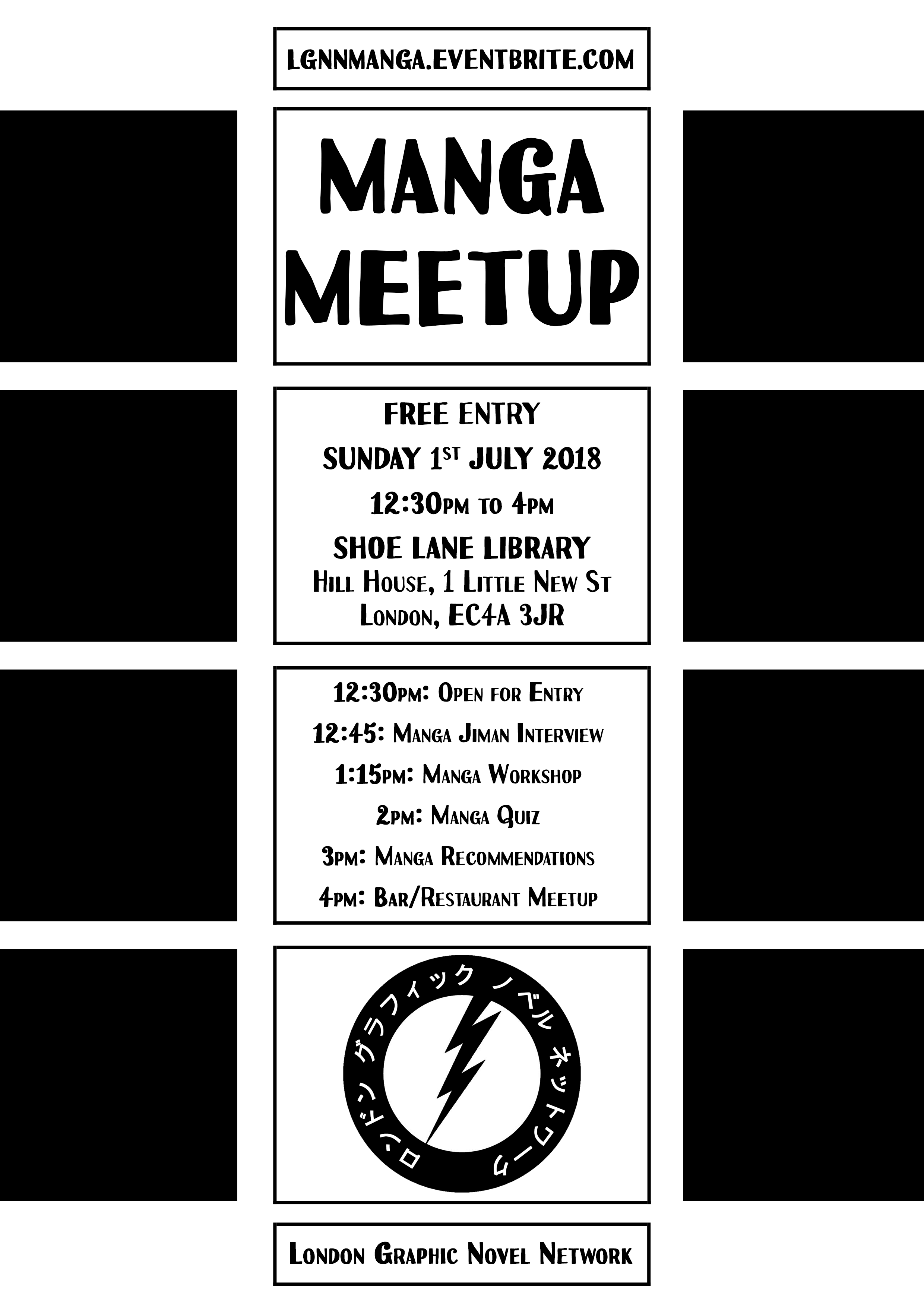 Organiser of Manga Meetup
London Graphic Novel Network CIC is a community devoted to spreading the word about comic book groups and events in London libraries and beyond.
You can join our community by finding our various Library group at different libraries across London.
Our Book Club posts are created by emails sent between members of the network, (hopefully) reaching some-sort of sweet spot between review, commentary, analysis and random nonsense. While capturing some of the fun and energy of a book-group in a way that others can enjoy.
If you would like to take part in our book club too – join us.