A midsummer horror event – Funny but scary! Let's draw Japanese Yokai monsters with INKO at HYPER JAPAN 2021.
About this event
One of the most popular summer events in Japan is a horror event. People are gathering up to tell scary stories in order to get a bit of chill in a hot season. Why not have an event similar to it? So here it is, join INKO , who has been published Manga Yokai Stories, to draw Yokai monsters!
There are hundreds of folklore monsters existing in Japan, I guess they're something similar to tooth fairies or unicorns in western culture. Creatures such as Amabie started gathering attention inside and outside Japan because of an internet meme for its story connected to pandemic prophecy. They are not only popular for their funny/spooky stories, but also their unique looks! So it would be lovely to draw them together.
The instructor INKO is a Japanese Manga artist based in the UK. After graduating from Kyoto University of Art & Design, she moved to England and studied at Central Saint Martin's College of Art & Design.
In this 90 min workshop, we are going to explore the wonders of Japanese folklore monsters – Yokai. As you will draw them in step-by-step instruction with INKO, this will be a perfect opportunity to create a Halloween card!
Type: Magna workshop part 2 with INKO at HYPER JAPAN 2021
Date: 14th August 2021, Saturday
Time: 19:30 – 21:00 (1.5 hour workshop incl. Q&A)
Instructor's profile: INKO ( click for the instructor's page)
Ticket Price: £20
Online tool: ZOOM (*link will be sent to you before the workshop)
Max Number: 100
Book before: 5 pm on 13th August 2021, Friday
INKO will host another workshop on Saturday 6th August at 19:30 : Free Manga Workshop - Let's draw your first Manga character with INKO. Click here to see details and book!
Precautions: Suitable for all ages and beginners. (under 8 years old may need adult supervision) No art /crafty experience necessary.
In this workshop, you will learn to draw Yokai Monsters and create your Halloween cards
At the end of the workshop, there is Q&A session for you to ask your questions to INKO. This is a great opportunity to ask whatever you have been wondering about manga to a professional manga artist!
*Below: Image of one of drawings you would learn from INKO at the workshop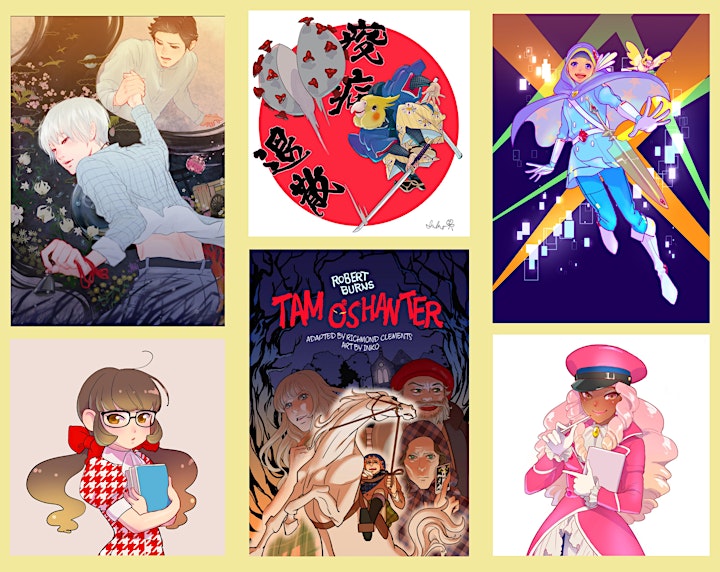 INKO Ai-Takita's works have been recognised by many companies, museums such as British Museum, V&A Museum, Transport For London, Sony Entertainment Japan, and Guardian children's book. She also delivers manga workshops in schools, galleries and museums such as the British Museum and Victoria and Albert Museum. She was appointed as a culture and language ambassador with School of Oriental and African Studies (SOAS).
Besides, her work was featured in an 'Inking Woman 250 years of Women and Comic Artists in Britain (2018)' and the comic 'Portrait Of Violence' has won a bronze medal at the Independent Publisher Book Awards in 2018. The multimedia project she took part as an illustrator 'Flight Paths' won Innovation in Craft Award at Superfilm Disability Film Festival in 2021. She also actively takes part in art projects such as "House of Setting Sun", an ongoing exhibition at Blackwell Arts & Crafts House.