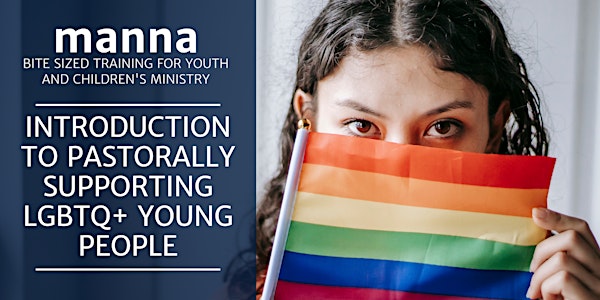 manna: Extra - Introduction to Pastorally Supporting LGBTQ+ Young People
We will explore together the experiences of LGBTQ+ young people, current language used in this area and the basics of their pastoral support
About this event
Throughout the country, in churches and youth groups, there are young people who identify as LGBTQ+. 'An Introduction to Pastorally Supporting LGBTQ+ Young People' is designed to equip church youth leaders and those working with young people with the knowledge and information to engage with young people around identity and gender. To be able to offer loving, compassionate and inclusive pastoral support to LGBTQ+ young people in the church community. This resource refuses to take sides, but instead helps to start a conversation around this topic from a perspective of love and pastoral care for young people.
The development of this resource is as of a result of conversations with local youth workers and leaders. Leaders who were seemingly feeling ill-equipped and even nervous, when having conversations about gender and sexuality. This resource aims to equip these leaders to have the conversation, and importantly, help them pastorally support members of their own youth groups and congregation who identify as LGBTQ+.
Please Note: While the content of the session is generally applicable and accessible, this resource was developed by The Salvation Army and, as such, some language and examples will be based in that context.
Learning Outcomes
1. For youth workers to understand that engaging with conversations around LGBTQ+ is a common part of most young people's lives and that it is likely that discussions around gender and sexuality are directly impacting the lives of some of the young people they are working with.
2. For youth workers to understand the basic terminology and acronyms around LGBTQ+.
3. For youth workers to feel confident in pastorally supporting LGBTQ+ young people.
4. For youth workers to have a basic framework to deal with practical questions raised by working with LGBTQ+ young people.
5. For youth workers to have a better understanding of the experiences of LGBTQ+ young people in church.
Organiser of manna: Extra - Introduction to Pastorally Supporting LGBTQ+ Young People