NURTURING THE LEADER WITHIN A CHILD provides tools and skills to nurture a child's heart to be a leader & a child of spiritual understanding
About this event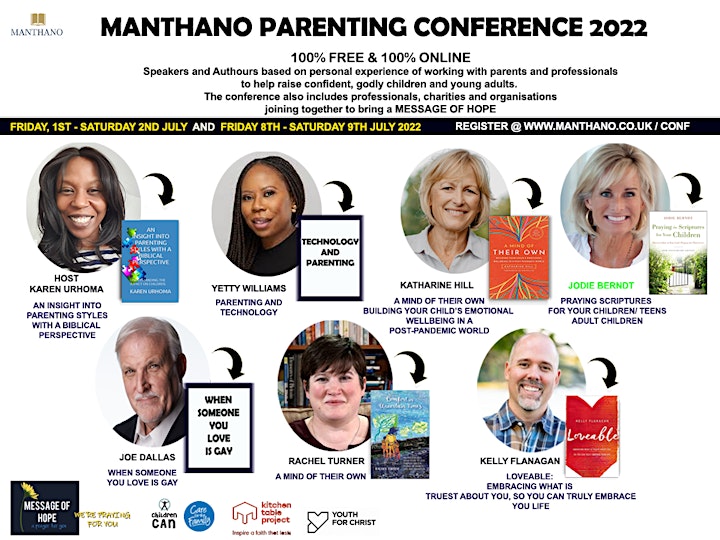 Speakers based on parenting books and the personal experiences of professionals working with children and teenagers to help you raise confident and Godly leaders...
Jodie Berndt will be speaking from her bestselling book series 'Praying the Scriptures for Children, Teens, and Adult Children'.
Joe Dallas founder of Cloudfire Ministries in Tustinwill will be discussing a session called 'When Someone You Love is Gay'.
Kelly Flanagan will be speaking from his book, 'Loveable: Embracing What Is Truest About You, So You Can Truly Embrace Your Life' which was a #1 New Release in Interpersonal Relations on Amazon.
Katharine Hill is UK Director at Care for the Family will be speaking from her new book, 'A Mind of Their Own: Building Your Child's Emotional Wellbeing In a Post-Pandemic World'.
Rachel Turner is the Parenting for Faith pioneer at Bible Reading Fellowship will be speaking from her book 'Comfort in Uncertain Times'.
Karen Urhoma is the Host, Founder and CEO of Manthano will be speaking from her new book 'An insight into Parenting Styles with a Biblical Perspective- Understanding the Impact on Children'.
Yetty Williams the founder of LagosMums will be talking about 'Parents and Technology' which is a course she leads.
Question and Answer Sessions in our Parenting With Angel Eyes Facebook Community. Join today.
Providing tools, skills, and spiritual encouragement to nurture a child's heart to be a leader in this everchanging world where culture crashes in a child's sense of justice, truth, determination of what is right or wrong, morality and spirituality...
P.S Don't Forget to Share. Together let's nurture the leaders within our children!!!!

Professionals, Charities and Organisations joining together to bring a MESSAGE OF HOPE – praying for families in the month July.