Description
(EN)
The aim of the conference is to present the strategy developed in the ManuMobile project to enhance the transparency and permeability between Vocational Education and Training and Higher Education, based on the writing of learning outcomes and the allocation of credits.
In the first period of the morning, it will be presented the methodology developed to write learning outcomes for the EWF qualifications in place (European/International Welding Specialist, European/International Welding Technologist and European/International Welding Engineer) and the toolbox. In the second period of the morning and during afternoon, working sessions will be organised. It will be discussed and gathered feedback on the results of the project, in order to either find room for improvements and to boost the uptake to other sectors and/or institutions.

(PT)

O objetivo da conferência é partilhar a estratégia desenvolvida no âmbito do projeto ManuMobile, que visa promover a transparência e permeabilidade/mobilidade entre o Ensino professional e o Ensino Superior, tendo por base a formulação de resultados de aprendizagem e a atribuição de créditos.

Durante o primeiro período da manhã, serão apresentadas a metodologia para formular resultados de aprendendizagem para qualificações EWF já existentes (Especialista Europeu/Internacional de Soldadura, Tecnólogo Europeu/Internacional de Soldadura e o Engenheiro Europeu/Internacional de Soldadura) e as ferramentas desenvolvidas durante o curso do projeto. No segundo período da manhã e durante a tarde, irão decorrer sessões de trabalho. Nestas sessões, irão ser discutidos os resultados do projeto, envolvendo os participantes, de forma a aprimorá-los e a promover a sua apropriação para outros setores e/ou instituições.


ManuMobile - Final Conference Agenda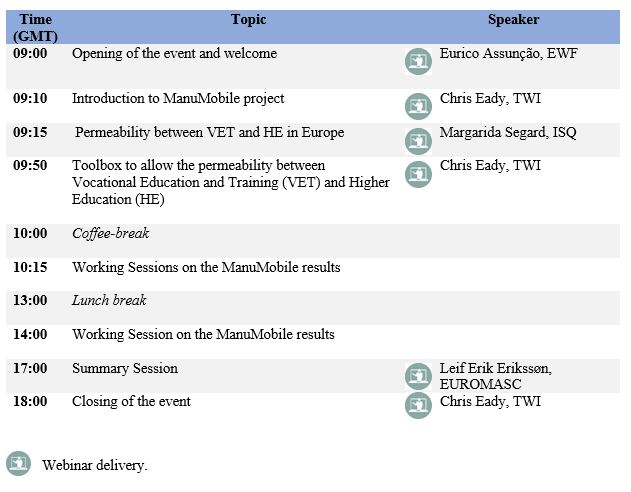 ManuMobile - Programa da Conferência