Location
The Bond Company
180-182 Fazeley Street
Birmingham
B5 5SE
United Kingdom
Description
Calling anyone who works at and across the edges of traditional disciplines; anyone who makes their own tools, because nobody else has made them already; anyone who seeks out unconventional collaborators; anyone who typically Rs & Ds atypically.
Gets a bit lonely sometimes, doesn't it?
We're running a series of 5 Salons to help make things a bit more linked-up and sociable.
Taking place on the first Friday of the month, each co-curated with a local organisation, these events are specially put together for the people who don't fit comfortably into the usual pigeon holes. We don't mind if you identify as an artist, scientist, craftsperson, researcher, musician, maker, curator, academic, technologist [...the list goes on...] - if you're pushing at the edges of what that can mean then we'd like to hang out with you!
There'll be invited speakers, a chance for practiioners to talk about / demo / playtest their work in progress to get constructive feedback, a chance to discuss opportunities for change and plenty of chances to chat to interesting people and seek out potential collaborators.
After a Many & Varied afternoon, you'll be in exactly the right place to then go on to enjoy Digbeth First Friday: exhibitions, late-night openings, special events, culture in unexpected spaces, live music, street food and more.
The Salons are free to attend, include light refreshments and need YOU!
We'll post more details here as they become available, but you can still get yourself signed up in the meantime.
November's Salon
November's Salon is co-curated with Alexa Torlo from Birmingham City University's Cross Innovation Team; a group who have experience in running interactive events and workshops that encourage multidisciplinary working, co-creation and co-design. At this, the penultimate Salon in our current programme, they will provide us with a chance to think together about what Many & Varied could look like in the future. Mark Brill will lead a practical workshop exploring creative ways to solve the challenges facing our community now and into the future.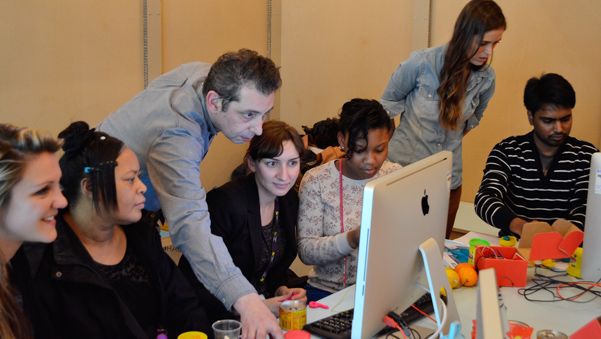 As usual there will be plenty of chance to chat to each other over tea and cake, and try out works-in-progress being developed by fellow attendees.
Do get in touch if you're working on a project that you'd like some input on, and/or have something to test out on a friendly group to get some feedback.
3rd of July - co-curated with Karen Newman, Birmingham Open Media

4th of September - co-curated with Sarah Ellis, RSC


2nd of October - co-curated with Ruth Claxton, Eastside Projects and Workshop Birmingham

6th of November - co-curated with Birmingham City University

4th of December - in cahoots with Leila Johnston, Hack Circus