Location
The Bond Company
180-182 Fazeley Street
Birmingham
B5 5SE
United Kingdom
Description
Calling anyone who works at and across the edges of traditional disciplines; anyone who makes their own tools, because nobody else has made them already; anyone who seeks out unconventional collaborators; anyone who typically Rs & Ds atypically.
Gets a bit lonely sometimes, doesn't it?
We're running a series of 5 Salons to help make things a bit more linked-up and sociable.
Taking place on the first Friday of the month, each co-curated with a local organisation, these events are specially put together for the people who don't fit comfortably into the usual pigeon holes. We don't mind if you identify as an artist, scientist, craftsperson, researcher, musician, maker, curator, academic, technologist [...the list goes on...] - if you're pushing at the edges of what that can mean then we'd like to hang out with you!
There'll be invited speakers, a chance for practitioners to talk about / demo / playtest their work in progress to get constructive feedback, a chance to discuss opportunities for change and plenty of chances to chat to interesting people and seek out potential collaborators.
After a Many & Varied afternoon, you'll be in exactly the right place to then go on to enjoy Digbeth First Friday: exhibitions, late-night openings, special events, culture in unexpected spaces, live music, street food and more.
The Salons are free to attend, include light refreshments and need YOU!
Here's our schedule for the afternoon:
1-1:30pm - Registration and chat; bring your own lunch or grab something from The Bond's cafe. We've a few people who have highlighted they've got nut allergies, so we'd really appreciate it if you could avoid bringing any into the event space.
1:30 - 2:15pm - A hello from us, then presentation from co-curator Ruth Claxton
2:15 - 2:30pm Group activity
2:30 - 3:15pm - Break - we'll provide tea/coffee/cake/fruit
3:15 - 4:00pm - Presentation from Eleanor Morgan
4 - 4:45pm - Work in Progress sessions - practitioners seek input on current projects
4:45 - 5pm - Close - parish notices etc (tell us about interesting things that are happening).
October's Salon is co-curated with Ruth Claxton from Workshop Birmingham. Our guest speaker is Eleanor Morgan.
Eleanor Morgan: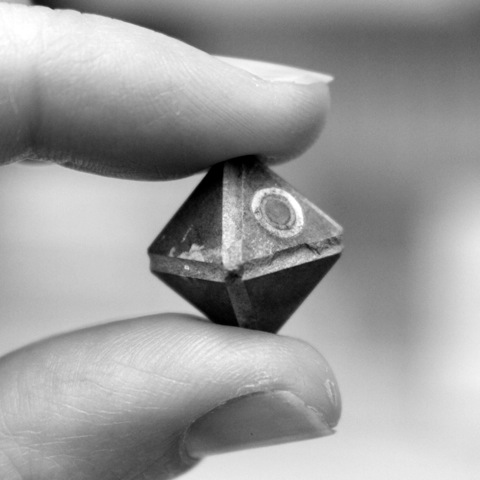 Eleanor Morgan is an artist based in London working with printmaking, sculpture, video and drawing. She is interested in materials and processes of making, in particular how human making intersects with that of other animals. She is currently Leverhulme Trust artist in residence at the Grant Museum of Zoology, where she is exploring their collection of glass sponges - animals that are formed of 90% silica. Her forthcoming exhibition at the Museum entitled 'Glass Delusions' (October 1st-December 19th) will explore the slippery boundary between living and non-living materials, and will include 'The Mudlark Diamonds' - tiny diamonds made from the dead creatures of the River Thames.
Morgan's other projects have included rubbing fish, embracing a giant sea anemone and serenading a spider. She often works with researchers and makers in other fields, including acoustic engineers, chemists, geologists and zoologists. Her book on the human uses of spider silk, Gossamer days: spiders, humans and their threads, will be published by Strange Attractor Press in Spring 2016.
www.eleanormorgan.com.
Ruth Claxton:
Ruth is an artist, Associate Director of Eastside Projects, co-producer of the Birmingham Art Map and half of Workshop Birmingham. In 2014 she worked with Alessandro Columbano, Michael Dring and Sean O'Keeffe to develop the Birmingham Production Space proposal which imagines a new national centre for the production of art and design in Birmingham. She and Sean O'Keeffe are currently developing Workshop Birmingham, a new project which aims to connect artists, makers and designers with manufacturers and industrial processes in order to develop new skills, knowledge and working relationships.
Work in Progress; what are you working on?
A core part of the Salons is giving people a chance to talk about, demo and ask questions of the projects they're working on at the moment. That means you! How can a room full of curious, intelligent people help you move forward?
Continuing the making theme, Anne Scrimshaw is setting up FabLab and would like to use some time in this session to chat to potential users about how the FabLab could best work for them.
Get in touch if you'd like to harness the power of a many and varied audience to feed into your work, or make your mind up on the day and let us know at the start so we can try and create the right sort of gap for you.
Other Salons in the series
3rd of July - co-curated with Karen Newman, BOM. Guest speaker Brian Degger.
4th of September - co-curated with Sarah Ellis, RSC. Guest Speakers: Davy & Kristin McGuire.
2nd of October - co-curated with Ruth Claxton, Workshop Birmingham. Guest Speaker Eleanor Morgan.
6th of November - co-curated with Birmingham City University.
4th of December - in cahoots with Leila Johnston, Hack Circus.
NB: We're back in the Waterside Room for this month's event, which has wheel chair access. If you have any other accessibility or mobility needs, please get in touch with us ASAP so we can have any conversations that need having and do what we can to make sure you can still take part as fully as possible.