Join Effie Makepeace in a creative and reflective workshop of mapping our way in and out of lockdown.
About this event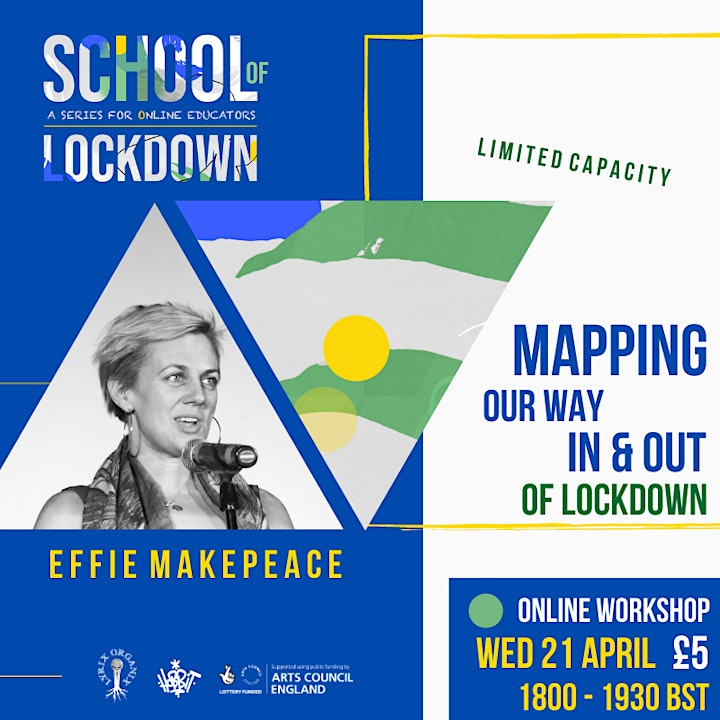 SCHOOL OF LOCKDOWN 5.3 - A SPACE TO PLAY
A creative, reflective participatory workshop where we will have two hours to look back on our lockdown experiences. We will use map out the geographical locations where we have spent our time (even if its just one room!) and use these as the basis to explore how the lockdown has also mapped itself onto our bodies and minds. We will find key moments of personal challenge, sparks of hope and start to think about what our personal map out of lockdown will look like - emotionally and physically.
Participants who buy "Package Ticket" (only for sale until 14.04) will receive a workshop package in the post containing: a welcome note, map making kit and other things TBC. This does not exclude participants who wants to join with a general ticket.
Series 5 of 'School of Lockdown' is our 'Open Studio'. You are invited into the homes of our artists and experienced facilitators - all have graduated from 'The Lab' (Series 4), an experimental platform of free workshops testing new techniques and digital models in an online space. Find out more about School of Lockdown below - supported by Arts Council England.
Theme: Creative Workshop, Interactive
Activity age group: Everyone and Anyone
Activity Length: +/- 2 Hour
Effie Makepeace is a community theatre practitioner, artist and researcher dedicated to the power that the Arts hold for understanding, learning and transformation within communities. She works with community groups from UK to Malawi, including extensive work with Cardboard Citizens.
https://www.effiemakepeace.com/
Date and time
Location
Refund policy