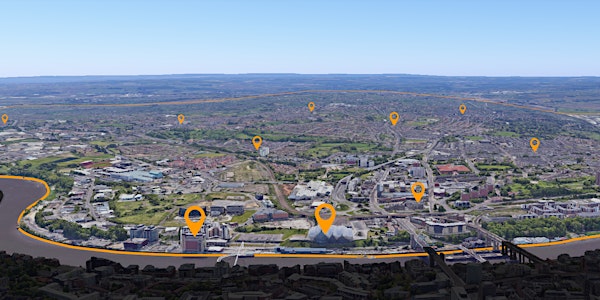 Mapping Gateshead: Past Creative and Cultural Landscapes
The first of three workshops which aim to explore the creative and cultural landscape of Gateshead in the past, present and future.
About this event
Mapping Gateshead: Past, Present and Future Cultural Landscapes
Workshop 1: Past
Wednesday 20 th January 2021 1 pm – 3 pm
The team are inviting everyone to join share and discuss personal experiences of past cultural and/or creative activity in Gateshead. What has survived? What has been lost and why?
Schedule
13:00 Introduction to the Project and Project Team
13:10 Quickfire Activity
13:20 Keynote Presentation
13:50 Comfort Break
14:00 Breakout Mapping
14:50 Group Sharing
15:00 Event End.
'Mapping Gateshead' is a five-month project that surveys and critically re-imagines creative and cultural activity in Gateshead through three interactive online workshops.
The project will bring together a variety of creative practitioners to discuss their experiences of change and continuity in Gateshead's cultural landscape. 'Creative practice' is a deliberately broad term intended to welcome a range of artistic backgrounds from leading architecture firms to community art projects and individual practitioners.
Through a series of three workshops, this project will explore the fabric of cultural activity in Gateshead and produce three maps that chart change and inform future policy. The first workshop will pool past research and expertise and discuss historic activity across the borough. We will be asking about the foundations of activity and, crucially, data on activities which are no longer active.
The second workshop will look at the current cultural landscape in Gateshead and present creative activity. Discussions will focus on active projects and projects at risk, and why. The third workshop acts as a future scoping event to identify a tangible, co-designed 'pathway' for future creative and cultural activity capable of supporting local policymaking
The three workshops in combination provide opportunities to share knowledge; identify areas in need of targeted support, develop and strengthen creative networks and, importantly, advocate for creative activity in the borough.
The first event will take place on the 20 th January 2021 1 pm-3 pm via Zoom.
A limited fund has been set aside for artist fees to cover time for each event and to offset childcare costs. We respectfully ask that groups with paid members of staff do not opt to apply. For more information about making a claim please contact rebecca2.prescott@northumbria.ac.uk