Event Information
Location
Park Building
King Henry I Street
Portsmouth
PO1 2DZ
United Kingdom
Description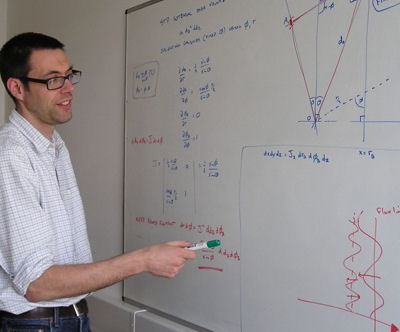 Inaugural lecture by Will Percival, Professor of Cosmology,
Institute of Cosmology and Gravitation, University of Portsmouth
In his inaugural lecture, Professor Will Percival, will review the latest theories of the history of the Universe from the Big Bang to present day. The evidence for this model will then be considered, focussing on how large surveys of galaxies provide a wealth of information about the Universe in which we live. The Universe has an interesting history, going through periods of rapid acceleration and deceleration, rather like a car in rush-hour traffic. By mapping the Universe as a function of look-back time (the time taken for the light from distant galaxies to reach us), we can observe these different phases, and understand the processes causing them.
Date: Thursday 21 March 2013
Time: 6.00-7.00pm, followed by a drinks reception
Venue: Park Building, King Henry I Street, Portsmouth PO1 2DZ
Please be seated 10 minutes before the lecture starts.
Date and time
Location
Park Building
King Henry I Street
Portsmouth
PO1 2DZ
United Kingdom