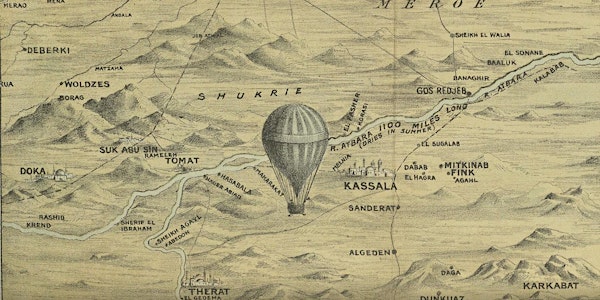 Maps and Magic in the Manchester Geographical Society Collections
Maps and Magic in the Manchester Geographical Society Collections with Brian Wallace and Donna Sherman.
About this event
In this lunchtime seminar we will be uncovering two contrasting sides of Victorian exploration – the scientific efforts to map uncharted regions of Africa for commercial and political gain, and the popular 'techno-magical' narratives of unfamiliar technologies being mistaken for magic which grew up around these expeditions.
The maps we will examine today originate from a collection amassed by the Manchester Geographical Society which comprises books, atlases, lantern slides, and maps. The Society was founded by Manchester-based businessmen in the late 19th century; its aim was to promote the study of Geographical Science especially in relation to 'commerce and civilisation'. Donna Sherman, curator of map collections at University of Manchester, will provide a brief history of the Society, its impact on teaching at the university, and its connections with the explorer Henry Morton Stanley.
But these maps tell another story too. Leverhulme Early Career Fellow Brian Wallace will discuss how the expeditions of imperial agents like Stanley gave rise to self-aggrandising stories of newly-contacted African peoples mistaking Western technologies for sorcery. Exaggerated accounts of 'superstitious natives' terrified by the 'magic' of rifles, fireworks, batteries, and even false teeth became a recurring trope in African travel narratives and fictional adventure stories like Jules Verne's Five Weeks in a Balloon. These stories allowed colonised peoples to be firmly placed in a lower rank of development while offering metropolitan audiences the gratifying power fantasy of 'playing god'.
Brian Wallace was an Early Career Visiting Fellow at the John Rylands Research Institute in 2018/19 and is now a Leverhulme Early Career Fellow working on his project 'God from Machines: Techonology and Magic in Nineteenth Century Imperial Encounters' at the Institute.
This event is part of a live, online lunchtime seminar series. University of Manchester researchers will team up with experts from the Rylands to share current research activities. The seminars will showcase rare and fascinating objects from the special collections, along with discoveries and new perspectives formed through their study. Attendees will be invited to participate with questions and thoughts during the live Q&A.
Image: "Bird's eye view of the Soudan". published by George Falkner and Sons, Limited.; Manchester Geographical Society, depositor.
For event enquires, you can contact us by email at jrl.events@manchester.ac.uk or telephone on 0161 306 0555
Your personal data will be processed in accordance with relevant UK Data Protection laws. For more information, please see our privacy notice: John Rylands Research Institute and Library.