Location
Dugald Stewart Monument
Calton Hill
Edinburgh
EH1 3BJ
United Kingdom
Edinburgh has many different landscapes that have accrued through time: We will imagine and discuss these landscapes from Calton Hill
About this event
"Landscape" invariably conjures up a picture of the natural environment and its aesthetic appeal. However, the term can be applied more widely in the urban environment to include, for example, strategic and architectural landscapes. With a rich history itself, Calton Hill provides the perfect viewpoint to imagine Edinburgh's landscapes changing through time. We will use historical and modern maps of the city, progressing from the underlying geology to the present day and looking into the future. The excursion will conclude with an optional short orienteering exercise using the latest digitally-created map of the Hill.
Speakers:
Dr Roger Scrutton FRSE, Honorary Research Fellow in Outdoor Education, Moray House School of Education and Sport, University of Edinburgh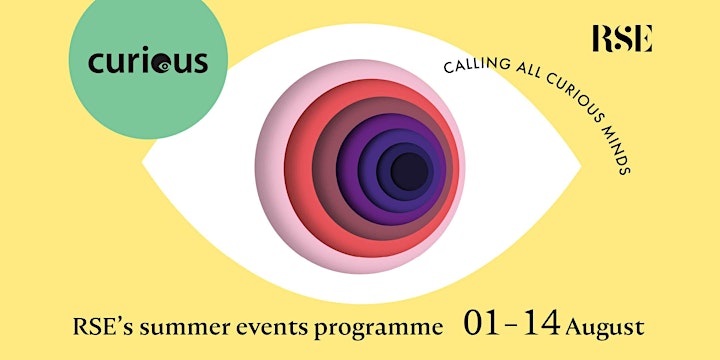 Calling all curious minds
The RSE invites you to Curious, its summer events programme running from 1 - 14 August. Take part in a series of free, online, and in-person talks, group discussions and outdoor activities on key contemporary topics and ground-breaking ideas with some of Scotland's leading thinkers.
Health and wellbeing; covering mental and physical health, while examining broader wellbeing matters.
Innovation and invention; from the inventions which created the modern world to the innovation that drives our path forward
Our planet; including climate change, biodiversity, conservation, and ecology.Year of Stories; stories, whether spoken, written, sung, or filmed, give a sense of place, history or belonging. In recognition of Scotland's Year of Stories 2022.
You can view the full line-up at www.rse-curious.com
Important points to note
This event is suitable for age 16+
Accessibility statement: We aim to make events as accessible as possible. If you have any accessibility requirements or any questions about how we can support this event, please contact the RSE Public Engagement team at public_engagement@therse.org.uk
Covid-19: In order to prevent the spread of Covid-19 we kindly encourage participants to continue to wear face masks if they feel comfortable to do so; use the hand sanitisers provided at the venue; and to stay at home if they have Covid symptoms or have tested positive for Covid-19.
Participants should be comfortable observing from and moving around the top of Calton Hill for 1-1.5 hours
Clothing/footwear should be appropriate for observing from and moving around the top of Calton Hill for 1-1.5 hours. Access to the hill is likely to be via steps or fairly steep path. Good walking surface on the top of the hill. The walking distance during the event is a few hundred metres.
Wheelchair access to the Hill is from Regent Road.
Toilets are available at the Collective.
If the weather is likely to be very hot, a hat and some water are advisable.
If weather is likely to be inclement, the event will be relocated to the Royal Society of Edinburgh – advance notification of any changes will be provided by the RSE.
The event will be presenter-led and the meeting place is the Dugald Stewart Monument at the west end of the top of the hill.
FILMING / PHOTOGRAPHY MAY TAKE PLACE AT THIS EVENT. Please notify RSE staff if you would prefer NOT to appear in any videos / photographs.