Description
WHAT TO EXPECT

An Equinox Guided Meditation Event to Align our Mind and bodies to the movement of our planet in relation to our life-giving star the sun.
During these auspicious moments, Earth is neither tilting towards or away from the Sun. Everywhere on the planet will have 12 hours of day and 12 hours of night. We are reminded to put things in order, create harmony and balance.


The theme for this month is therefore all things to do with Order and bringing your life into harmony and balance.

WHY SHOULD YOU ATTEND
Join us to Set your intentions for the next 28 days and beyond
Learn Personal Development Rituals Activities and Exercises
Give yourself permission to sit quietly, listen to like minded kindred spirits and be heard in return
Learn how to create sacred space in your own home and in your life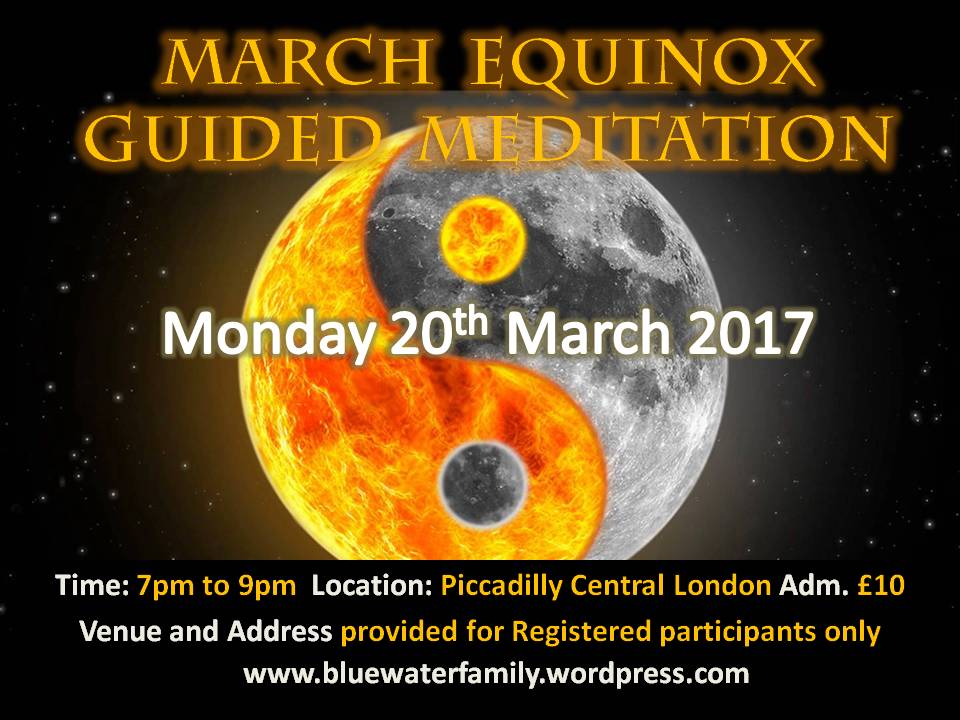 PRESENTED BY A Wellness Advocate

The session will be lead by Amazon Best Selling Author and Relaxation Coach Amunet Hall

Buy The book 'Amunet's Fables Lessons In Soul Survival' get your signed copy on the day


WHAT TO BRING
A positive attitude ready to network with kindred spirits

Your pen and journal to take notes
Water to drink

TURN YOUR PHONE OFF WHEN YOU ENTER THE SPACE

Recording of the event is strictly not allowed. You will get a chance to do a vox pop review of the event at the end by our in-house photographer. Images taken may be used for future publicity.




SPIRITUALITY
These gatherings are not aligned to any particular religious ideology. Our focus is Personal Development and Spiritual Growth.

We look forward to providing you with a memorable learning experience.
Disclaimer: These monthly Guided meditation sessions are not a substitute for those needing medical care. Please consult a medical professional for any issues needing ongoing treatment.
Sponsored by Blue Water Family and Amunet's Fables
www.bluewaterfamily.wordpress.com
www.amunetsfables.com
Date and Time
Location
Picadilly
Central London
Venue and Address to Registered Participants
London
United Kingdom