About this Event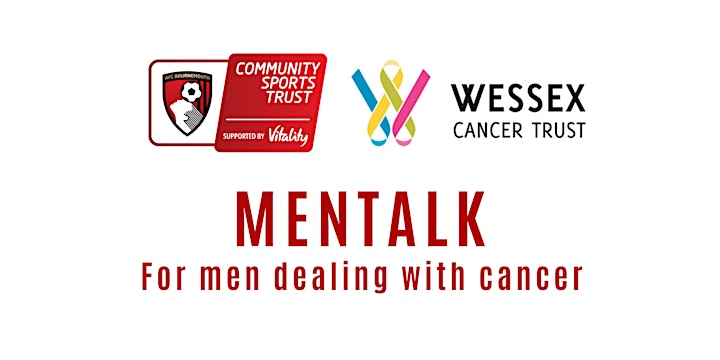 MENTALK is a joint community health and well being support initiative between AFC Bournemouth Community Sport Trust and Wessex Cancer Trust.
A monthly peer support / talk group meeting of men dealing with cancer, coming together to share knowledge, encouragement, and experiences.
The group aims to:
Promote peer support. Sharing a space with other men who understand some of what you are experiencing
Provide knowledge and skills. Men sharing suggestions about dealing with challenging times/issues, or suggestions for resources and providers. Guest speakers sharing expertise and opportunities for better health and well being.
Provide a safe and supportive environment where men feel comfortable to talk openly, express themselves and share if they choose to.
The meeting will be made up of three parts; table conversations, hearing from a guest speaker followed by an open conversation.
GUEST SPEAKER: TO BE CONFIRMED.
Comments from previous meetings...
"Another good meeting last night mate, thank you. Good positive messages, good interaction and a healthy spoonful of humour. I enjoyed the evening."
"I just want to say i enjoyed last night, its good to see so many men there. I believe that this could grow into something very positive. "
"Just introducing myself to you & thanking you, mike & AFC Bournemouth for giving us the opportunity to form the once a month men's cancer group."
' I thoroughly enjoyed last night. The prospect of being involved in this group is interesting and I am sure will be beneficial."
"Thank you for last nights meeting, which I found much more helpful than I expected. It was good to listen to the experiences of other people and the talk was also inspiring."
"Thank you for running the MENtalk group tonight. I can see it becoming very successful and advantageous to alot of men going forward."
"Hi, thank you very much for the meeting tonight - it was helpful in more than several ways."
"I thought the meeting last night was very good and the information provided during the evening was very interesting."
"It was good to meet you yesterday and to attend the session which must be the biggest group of guys ever assembled to talk through "stuff" ?"
"Thankyou for yet another fantastic evening on Thursday menstalk."
"Hi Layne. Thanks for hosting tonight. It was very powerful. You were right to go with the flow. The men did talk at MenTalk! It was a highly successful evening."