Marcus Garvey @ 80: Moving Towards A Unifying African Identity
Sales Have Ended
Registrations are closed
A Message from BTWSC Events/African Histories Revisited: Thank you for booking to attend our event: Topic: Marcus Garvey @ 80: Moving Towards A Unifying African Identity Time: Jun 10, 2020 06:00 PM London Please use the direct link: https://us02web.zoom.us/j/85857530050 whereupon you would be prompted to Open the Zoom app - no need for password as you've pre-booked   If you have any problems getting into the meeting, then please access from browser: www.Zoom.us  then click Join A Meeting and input the Meeting ID 858 5753 0050     Join Zoom Meeting https://us02web.zoom.us/j/85857530050   Meeting ID: 858 5753 0050 One tap mobile +13126266799,,85857530050# US (Chicago) +13462487799,,85857530050# US (Houston)   Dial by your location         +1 312 626 6799 US (Chicago)         +1 346 248 7799 US (Houston)         +1 646 558 8656 US (New York)         +1 669 900 9128 US (San Jose)         +1 253 215 8782 US (Tacoma)         +1 301 715 8592 US (Germantown) Meeting ID: 858 5753 0050 Find your local number: https://us02web.zoom.us/u/kemRkosoBO www.AfricanHistoryPlus.eventbrite.com
Sales Have Ended
Registrations are closed
A Message from BTWSC Events/African Histories Revisited: Thank you for booking to attend our event: Topic: Marcus Garvey @ 80: Moving Towards A Unifying African Identity Time: Jun 10, 2020 06:00 PM London Please use the direct link: https://us02web.zoom.us/j/85857530050 whereupon you would be prompted to Open the Zoom app - no need for password as you've pre-booked   If you have any problems getting into the meeting, then please access from browser: www.Zoom.us  then click Join A Meeting and input the Meeting ID 858 5753 0050     Join Zoom Meeting https://us02web.zoom.us/j/85857530050   Meeting ID: 858 5753 0050 One tap mobile +13126266799,,85857530050# US (Chicago) +13462487799,,85857530050# US (Houston)   Dial by your location         +1 312 626 6799 US (Chicago)         +1 346 248 7799 US (Houston)         +1 646 558 8656 US (New York)         +1 669 900 9128 US (San Jose)         +1 253 215 8782 US (Tacoma)         +1 301 715 8592 US (Germantown) Meeting ID: 858 5753 0050 Find your local number: https://us02web.zoom.us/u/kemRkosoBO www.AfricanHistoryPlus.eventbrite.com
This is a forum for people of African heritage to discuss issues about racial identity and representation, etc
About this event
An Anti-University Now 2020 and Marcus Garvey/UNIA-ACL 80:100 presentation
In commemorating the 80th anniversary of the passing of pan-Africanist icon Marcus Garvey in London, The African Coalition is convening a Zoom online meeting for Africans to discuss and make some decisions on identity, etc.
To make the UN's International Decade For People Of African Descent 2015-24 initiative meaningful, the 'Moving Towards A Unifying African Identity' discussion will focus on the following points drawn from TAOBQ (The African Or Black Question) Manifesto 2020+:
1. Describe people of African heritage as African or as of African heritage (not origin), instead of black.
2. The opportunity for study of African history or Africana to be made more accessible, and either descriptor be used, instead of black history or black studies.
3. When itemising racial discriminations, then use Afriphobia (note the spelling with an "i"), which refers to the prejudice or discrimination against; fear, hatred, or bigotry towards people of African heritage and things African, instead or anti-black racism or lumping it under racism.
4. Use AAME (African, Asian, Minority Ethnic) terminology, instead of BAME (Black, Asian, Minority Ethnic), which excludes the African identity.
5. Make time to observe August 31 as African History Reflection Day.
6. A final decision to be made on whether to use the 4 or 5 band Global African quad flag, which combines the colours of the two pan-African colours, as the visual identifier of African-centred matters.
The African Coalition event is led by BTWSC/African Histories Revisited, TAOBQ (The African Or Black Question) and supporters including Bro Glenroy Watson, Bro Minkah
Marcus Garvey/UJNA-ACL 80:100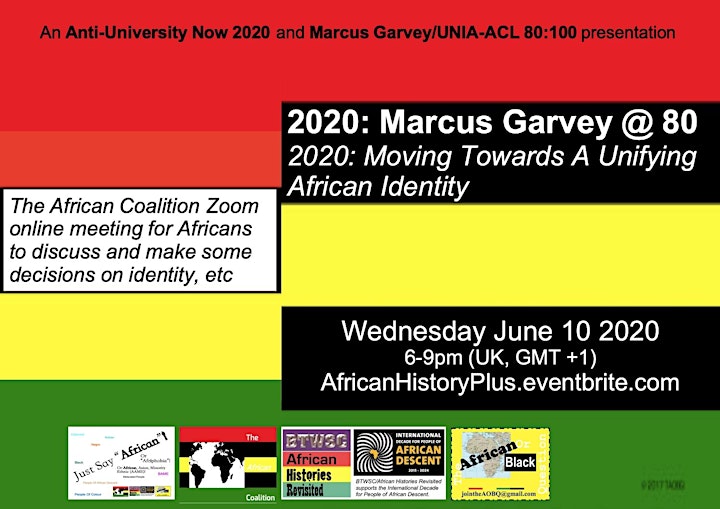 Organiser of Marcus Garvey @ 80: Moving Towards A Unifying African Identity
BTWSC is a pan-London voluntary organisation that uses the creative arts to develop potential, raise aspirations, and promote social inclusion. It works with youths, adults and inter-generational audiences. Its core areas of delivery cover music industry, event planning, and African history education and programmes. For more details: btwsc@hotmail.com.
Please note that because of non-attendance, we over-book all free events, so entry and sitting is on a first come, first served basis.
Please note that we photograph and/or film/video our events. Your attendance is taken as implied consent. NO Filming/Video recording events by attendees without prior permission from organisers.