Margot Sunderland Helping Children Talk About their Feelings Using the Arts
Sales Have Ended
Ticket sales have ended
Thank you for your webinar booking for Helping Children & Teenagers Process Feelings & Talk About their Lives with Dr Margot Sunderland Please ensure you have provided the correct email address for EACH DELEGATE if you are booking on behalf of other people. This is an online event and each delegate will be sent a webinar link via email. If you have provided contact information for yourself and you are not the delegate, please return to your booking and edit the details now. Your link for the Zoom meeting will be sent a few days before the event. If you have any queries relating to this event, please contact Hinton House directly, sales@hintonpublishers.com
Sales Have Ended
Ticket sales have ended
Thank you for your webinar booking for Helping Children & Teenagers Process Feelings & Talk About their Lives with Dr Margot Sunderland Please ensure you have provided the correct email address for EACH DELEGATE if you are booking on behalf of other people. This is an online event and each delegate will be sent a webinar link via email. If you have provided contact information for yourself and you are not the delegate, please return to your booking and edit the details now. Your link for the Zoom meeting will be sent a few days before the event. If you have any queries relating to this event, please contact Hinton House directly, sales@hintonpublishers.com
A live webinar exploring creative therapeutic approaches to helping children process their feelings and talk about their lives
About this event
From Hinton House Training
Helping Children Talk About Their Feelings & Lives Using the Arts
Presenter: Dr Margot Sunderland
14 OCTOBER 2021 4-5.30PM
4 NOVEMBER 2021 4-5.30PM
A live webinar for teachers, SENCOs, Inclusion Managers, Mental Health Leads, Psychologists, Therapists and Counsellors based around a range of Dr Margot Sunderland's books and resources focussing on healing after a traumatic experience, including her new card set Helping Children Talk About their Lives. There will be an opportunity for questions.
Recent research indicates a rise in mental health issues in children and young people, including eating disorders, self-harm, anxiety and depression. Emotional distress is often caused by overwhelming and frightening feelings becoming disconnected from their original cause. This can happen when children have no-one to help them feel, think about and make sense of what has happened.
It is vital for children to have space and time with an emotionally available adult to be able to process their feelings and to talk about their lives.
However, many children are not clear what they feel and find it difficult to put feelings into words, hence the need for 'the third thing in the room' namely cards, emotions worksheets or stories, to guide them in putting feelings into a narrative form.
As 'show me, not tell me' prompts, images, cards, stories and worksheets can be a very effective way of making sense of feelings, and enable children to talk more freely about what matters to them, often for the first time. Discussing an image or worksheet can feel safer, as this becomes the focus of the conversation, rather than the child themselves.
Dr Margot Sunderland will use moving case material to demonstrate key interventions to help children to tell their stories.
Ticket options include special discount offers on books and resources from Margot Sunderland.
This webinar will enable you to:
Learn how to use art media such as cards, therapeutic stories, emotion or relationship worksheets to help children see things more clearly and organise feelings in narrative form.
Understand what mentalisation-based interventions are and how helping children and young people to mentalise is so protective of mental health.
Realise the power of listening to a therapeutic story both in one-to-one and whole-class settings. Understand how to compose a therapeutic story and when it may be preferable to use a published one instead.
Learn about the role of psycho-education in helping children process painful life events.
Ticket Prices
Webinar Ticket Only £20
Webinar Ticket + Helping Children Card Set with FREE Postage (UK ONLY) £49.99
Webinar Ticket + Helping Teenagers Card Set with FREE Postage (UK ONLY) £49.99
Webinar Ticket + SPECIAL OFFER 2 Resource Bundle (Helping Children & Helping Teen card sets) FREE Postage (UK ONLY) £75.99
Webinar Ticket + SPECIAL OFFER Therapeutic Stories 12 Book Best Buy Pack FREE Postage (UK ONLY) £139.99
FREE TICKET BEST BUY OFFER Free webinar ticket with 2 Card Sets + Therapeutic Stories 12 Book Best Buy Pack FREE Postage (UK ONLY) £215.98
Tickets with EU delivery also available.
Timetable
3.45-4.00pm Registration
4.00-5.10pm Presentation from Dr Margot Sunderland
5.10-5.30pm Questions from delegates
New! 'Helping children talk about their lives' Card Set
Margot Sunderland's new card set Helping Children Talk About their Lives can be ordered for £29.99, with FREE delivery (UK only) along with your ticket, or directly from Hinton House www.hintonpublishers.com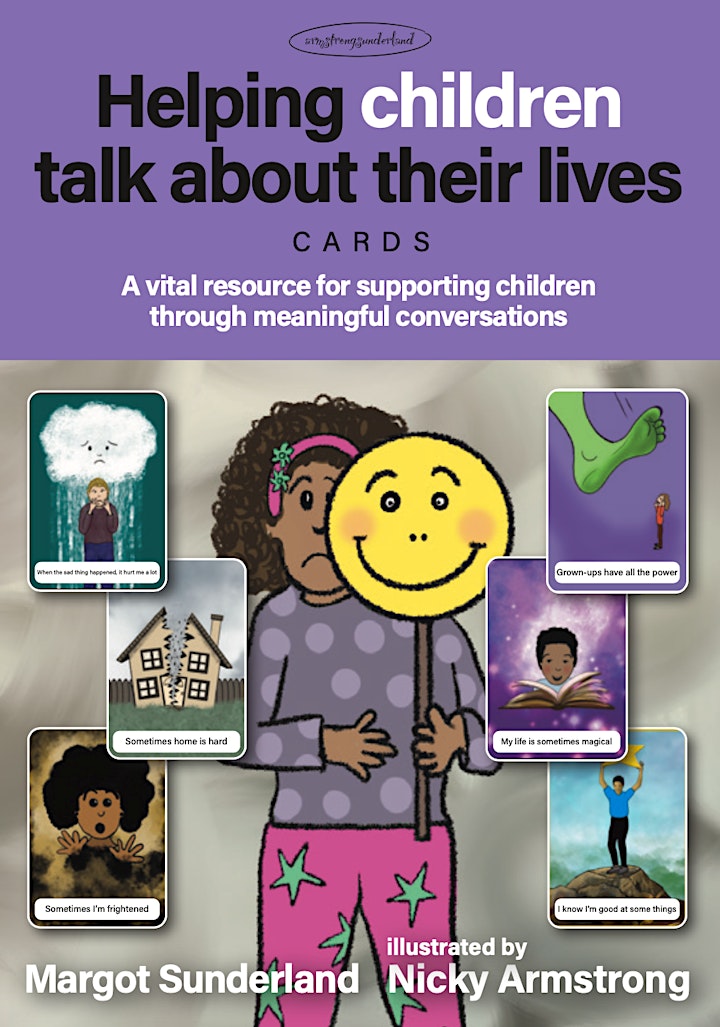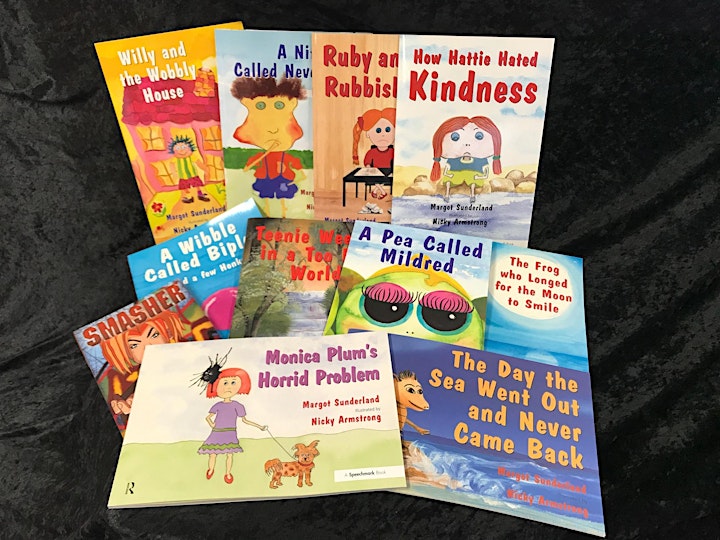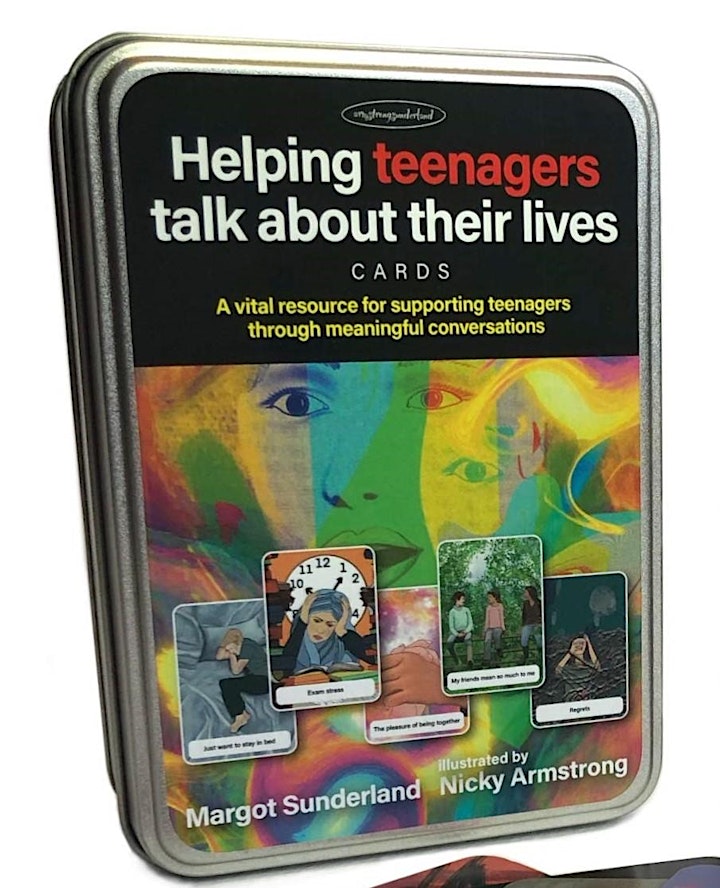 About the Presenter
Dr Margot Sunderland is Director of Education and Training at The Centre for Child Mental Health London, Co- Director of Trauma Informed Schools UK, Honorary Visiting Fellow at London Metropolitan University, Senior Associate Member of the Royal College of Medicine, and Child Psychotherapist with over thirty years experience of working with children, teenagers (many in residential care homes) and families. She is also a qualified secondary school teacher.
Margot is author of over twenty books in the field of child mental health, which collectively have been translated into eighteen languages and published in twenty-four countries. Her internationally acclaimed book, What Every Parent Needs to Know (Dorling Kindersley) won a First Prize in the British Medical Association Medical Book awards and has been voted as one of the best brain books of our time by The Dana Foundation. Dr Sunderland has been studying the neuroscience of adult- child relationships for over 20 years.
Dr Sunderland is also founding Director of The Institute for Arts in Therapy and Education, a Higher Education College and Academic Partner of University of East London. The College runs Masters Degrees/Diplomas in Child Psychotherapy, Child Counselling, Parent -Child Therapy and Therapeutic Play. Dr Sunderland was also a member of the Early Years Commission, Centre for Social Justice, Westminster and co- author of the cross party advisory report "The Next Generation" (early years intervention).
Among Margot's bestselling publications are:
Helping Teenagers Talk About Their Lives Card Set, CCMH, London
Helping Teenagers with Anger & Low Self-Esteem, Hinton House, Banbury
Smasher, A story to help adolescents with anger & alienation, Hinton House, Banbury
Struggle, A story for children and teenagers who've known hurt and shock, CCMH, London.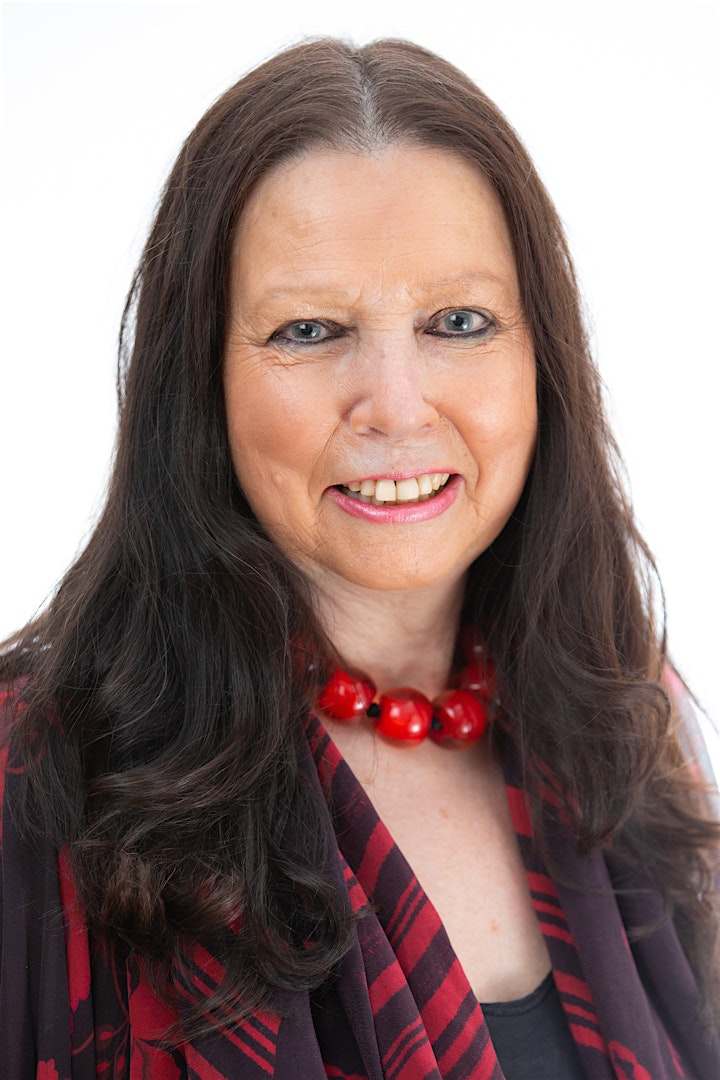 Date and time
Location
Refund policy
Organiser of Margot Sunderland Helping Children Talk About their Feelings Using the Arts
Hinton House publishes practical, easy to use books and resources to help improve emotional health and wellbeing in children and young people, for education, therapy, social care and home use. Our books are written by highly experienced education, counselling and social care professionals and are designed to provide evidence- and practice-based resources to support you in your work with young people.
Together with our authors we run online CPD training and conferences based on our best-selling titles. Each delegate is provided with a copy of the relevant resource as part of their conference fee.