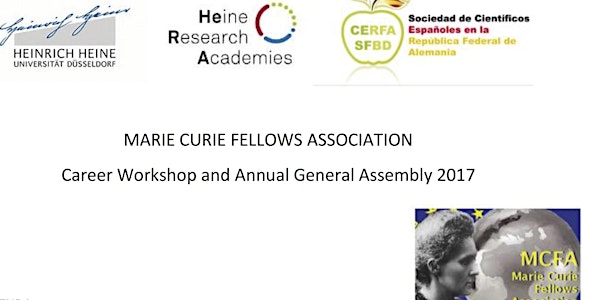 Marie Curie Fellows Association Career Workshop and General Assembly 2017
Event Information
Location
Haus der Universität
Schadowplatz, 14
40212 Düsseldorf
Germany
Description
Since 2016 the Marie Curie Fellows Association looks proudly back to 20 years of activities.
This year it is time again to celebrate our bi-annual General Assembly. To make this meeting more exciting for all participants, we organize our traditional Career Workshop followed by the General Assembly. And we want you to take part of it!.

The Career Workshop will comprise tips for reading job advertisements, storytelling for scientists and how networking can impact your personal development. Check the interesting program at: https://mcfa.eu/site3/
The event is supported by the Heinrich-Heine-University and of the Association of Spanish Scientists in Germany CERFA. Therefore, the Career Workshop is free for MCFA members, CERFA members and Post-Graduates, PhD students and Postdocs of the Heinrich-Heine-University. Non members of the MCFA, CERFA or HHU will pay on site a 40€ fee for the career workshop.
In case you need some support to arrange your trip, you can contact the organization at: softskills@enviro-pro.de.
In the General Assembly, (for MCFA members only) we will elect new members for the Administrative Board. This is your chance to get very useful training for personal development! Join us! Candidate for the Board!
If you want to be a candidate you just need to send an email with your profile and your motivation letter until Friday 10th February 2017 at office@mcfa.eu. The candidates will be presented online the days before the General Assembly. Please, consider that only full members have the right to vote and to candidate. It still possible to pay the membership fees for 2017, if necessary.
Date and time
Location
Haus der Universität
Schadowplatz, 14
40212 Düsseldorf
Germany