A unique opportunity to find out more about this extraordinary writer and humorist, and his adventures in England
About this event
The fascinating story of Mark Twain's attitudes to the English, his UK visits, and his encounters with the likes of George Bernard Shaw, Kipling and Dracula author, Bram Stoker. Steve will also explore Twain's summer of 1900, when he stayed at Dollis Hill House (see main image) and opened Kensal Rise Library - then, the Reading Room.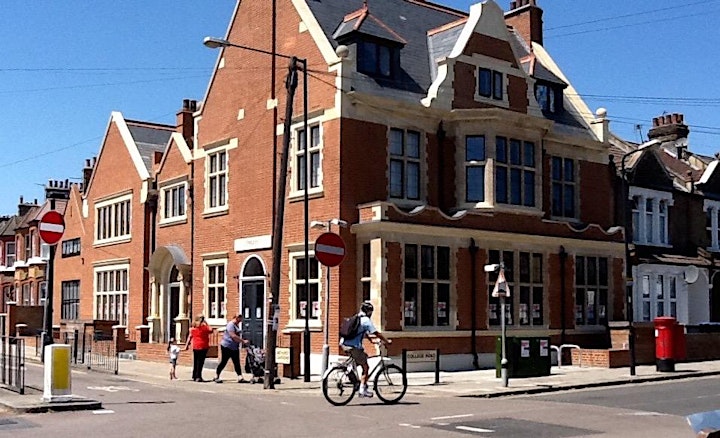 Kensal Rise Library, in North West London, is the only library Mark Twain opened outside America
Steve Courtney is the author of 'Joseph Hopkins Twichell: The Life and Times of Mark Twain's Closest Friend' (Georgia, 2008), winner of the Connecticut Book Award; 'The Loveliest Home That Ever Was': The Story of the Mark Twain House in Hartford (Dover, 2011); and Mark Twain's Hartford (Arcadia, 2016), among other works. He is co-editor, with Peter Messent of the University of Nottingham and Harold K. Bush of St. Louis University, of The Mark Twain-Joseph Hopkins Twichell Letters (Georgia, 2017, paperback edition published 2020). He has been a journalist for forty years, much of that time at 'The Hartford Courant', and has served as both publicist and curatorial project coordinator at The Mark Twain House & Museum in Hartford, Connecticut.
He has many family connections with England, with a son, a sister, and cousins living there with their families. He and his wife, Lisa, are planning (fingers crossed) a post-COVID visit in November, which this time has to include a visit to the London Borough of Brent - and Kensal Rise Library.
Steve is pictured below at Mark Twain House and Museum, Connecticut, USA