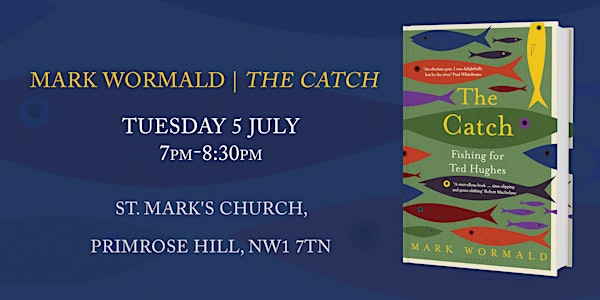 Mark Wormald |'The Catch: Fishing for Ted Hughes'
Location
St Mark's Church
Saint Mark's Square
London
NW1 7TN
United Kingdom
Refund policy
Contact the organiser to request a refund.
Eventbrite's fee is nonrefundable.
Mark Wormald discusses his new book, 'The Catch: Fishing for Ted Hughes', a stunning blend of memoir, biography and nature writing.
About this event
About this event
Join us to hear Mark Wormald discussing and reading from his new book, The Catch – Fishing for Ted Hughes. Doors will open at 6:30pm for a 7:00pm start. Audience members are encouraged to come early, browse the books and have a glass of wine. Mark's talk will be followed by plenty of time for a Q&A. Afterwards, there will be book sales and signings, and an opportunity to refill your glasses and chat informally to Mark. The ticket price includes a glass of wine.
This will be the first London event for this exciting new book, which will attract lovers of fishing, poetry, literary biography and the natural world alike. Ted Hughes himself lived in Primrose Hill for a period in the early 1960s. The event is organised in conjunction with local independent bookshop, Primrose Hill Books.
About the book
A brilliant blend of memoir, literary biography and nature writing, The Catch is a powerful meditation on poetry and the natural world, on the enduring influence of a great poet, and a quiet reflection on what it means to be a father and a son.
It is in the midst of a swirling river, casting a line, that Mark Wormald meets Ted Hughes.
He stands where the poet stood, forty years ago, because fishing was Ted Hughes's way of breathing – and because the poet's writing has made Mark understand that it has always been his way of breathing, too.
Using Hughes's poetry collection River and his fishing diaries as a guide, Mark returns again and again to the rivers and lakes in Britain and Ireland where the poet fished. At times, he uses Ted's fly patterns; at others his rods. It is an obsession; a fundamental connection to nature; a thrilling wildness; an elemental pursuit.
About the author
Mark Wormald has been fishing since the age of four. He has been a Fellow in English at Pembroke College, Cambridge, since 1992. He edited Charles Dickens's The Pickwick Papers for Penguin Classics and more recently co-edited two collections of essays: Ted Hughes: from Cambridge to Collected (2013) and Ted Hughes, Nature and Culture (2018).
Recent praise for The Catch
'What a marvellous book The Catch is: a time-slipping, genre-shifting exploration of lives and landscapes, in which poetry, memoir and biography swirl and braid most beautifully together.' - Robert Macfarlane
'This book tugs at an atavistic, aquatic consciousness at the base of my brain.' - Amy-Jame Beer
'Complex, kaleidoscopic, brilliant in its originality.' - Katharine Norbury
'Here is a book and a writer and a sense of the world and of language which are all as marvellous as the subject deserves.' – Adam Nicolson
'Penetrating and poetic, filled with honeyed prose and thoughtful criticism.'- The Times, Cal Flyn
'A torrent of a book, its swirling deeps and dark backwaters lit with hard-won insight.' - Luke Jennings
'A rare piece of work - modest, brilliant, moving. Quietly profound.' -- Ian Sansom
'A wonderfully beguiling and enjoyable literary pilgrimage - full of surprises and insights, to delight anyone (fisherman or not) who loves reading poetry. Truly, a remarkable book' - David Profumo, Country Life
'A profoundly reflective examination of Hughes's fishing life, layered over with Wormald's own . Wormald has an engaging, lyrical style, by which it's easy to be beguiled into appreciative enjoyment and even wonder.' - Ettie Neil-Gallacher ― The Field
'Whilst Hughes's love for angling is relatively well-known, Wormald makes a deep and sustained claim for the link between Hughes's poetic thinking process and the act of fishing. . [But] The carrying streams of this book are not only those of Hughes's life, and those of his family and friends, but of Wormald's too. . Wormald's own prose is sprung and striking [and] The Catch becomes a subtle meditation on what it is to be a father, a son, a brother.' - Rob St. John, Caught by the River
'Wormald's scene-setting and imaginative, close reading of the poems uncover new aspects of Hughes and his work, which is no easy task . Hughes thought the all-absorbing experience of fishing was much like writing poetry, and such descriptions will have the fishermen among this book's readership nodding along.' - Richard Benson ― The Mail on Sunday
Proceeds from ticket sales will go to restore the boundary wall of St Mark's Church.