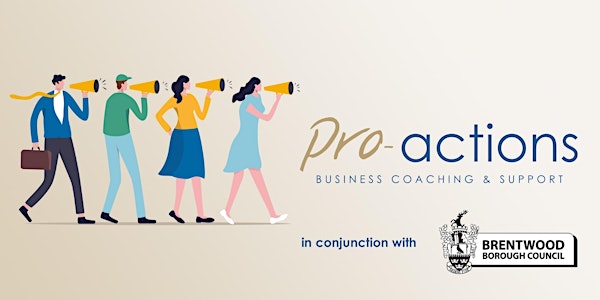 Marketing for Growth and an Introduction to Social Media
Location
Committee Room 1, Brentwood Borough Council, Town Hall,
Ingrave Road
Brentwood
CM15 8AY
United Kingdom
Marketing is an investment not a cost. You need the right return on your investment, so you need to think clearly about some key questions
About this event
This Pro-actions Business Seminar, being run in association with Brentwood Borough Council, will show you ways of making sure your marketing works and help you to understand more about effective social media for your business.
• Do you know who your target markets are?
• Do you know what your marketing initiatives cost and what you'll get back?
• Do you have a marketing plan?
Marketing is easy to get wrong, waste money on and get frustrated with! But you can market your business very successfully on a low budget.
Attendees can look forward to finding out about:
• How to plan your marketing
• How to Market your business successfully on a low budget
• How social media can be effective for business
Packed full of sensible ideas and solutions, this is a must attend event for anyone who is serious about their business having the best chance to succeed.
Booking is essential and there are limited places. Don't delay and use the three hours to make a real difference to your future!
Parking information:
Delegates should park in one of the following town centre car parks which are only a short walk away.
• Coptfold Road multi storey car park (6 min walk)
https://www.brentwood.gov.uk/-/carparks#coptfold-road-multi-storey-car-park
• Chatham Way car park (9 min walk)
https://www.brentwood.gov.uk/-/carparks#chatham-way-car-park
• William Hunter Way carpark (9 min walk)
https://www.brentwood.gov.uk/-/carparks#william-hunter-way-car-park