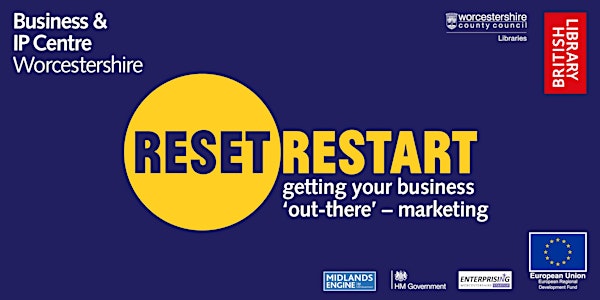 Marketing – Getting your business 'out-there' (2 of 4)
Sales Have Ended
Registrations are closed
If all the places have been taken for this programme please contact robharrison@gluedlimited.co.uk who can advise you about subsequent dates.
This interactive webinar will work through and start answering the questions needed to identify the valuable difference your business offers
About this event
This is the second in a series of four webinars and two hours of consultations brought to you by the Worcestershire Business & IP Centre (BIPC) in conjunction with the British Library. The Reset.Restart Covid support programme is aimed at Worcestershire business start-ups and small to medium sized companies, trading for up to four years. It aims to enable local companies to flex for the effects of lockdown and the post-pandemic environment. Using the Business Model Canvas, the programme aims to provide you with actions and momentum across key business areas.
To join the programme you will need to commit to attending four Webinars (see below) and to working with the same small group of businesses across these sessions. You will also benefit from two one hour one-to-one bespoke meetings with a business coach. At the end of the four sessions you will have an actionable covid recovery plan for your business.
Content
How marketing needs to flex for circumstances, such as an economy impacted by Covid.
What steps does a prospect take from not knowing you to becoming a loyal customer?
Case studies and break-out groups to reveal your valuable difference.
Who is the ideal customer for that valuable difference? How can you engage and nurture them?
Who should attend?
Worcestershire based start-ups or recently formed businesses (four years or less), who have the ambition to grow their business and thrive post-lockdown. The programme aims to provide you with the tools to develop stability and flexibility for the ebb and flow of the economic environment.
Practical takeaways
The source ideas for a value proposition
A description and profile for an ideal customer (and any segments they may fall into)
A sales and marketing plan for how a prospect becomes a customer
A sales and marketing plan that accounts for the economic context that Covid has presented to us
Value for the business
The foundations of a sales and marketing strategy
A language to use to engage prospects
A basis for targeting to increase the return on any investment in marketing
Format
90 minute online live learning with practical exercises to gain new knowledge and skills through practise.
Preparation for attendees
Confirm your specific skill development needs with your BIPC coach.
Post workshop
120 minutes of consultation is provided to each participant of the Reset. Restart: Programme. This is alongside the availability of learning and implementation support from the Worcestershire BIPC.
Links for your other webinar bookings
From good ideas to good business - the Business Model Canvas (1 of 4) -
Tuesday 23rd March11:00 - 12.30pm
Wednesday 31st March 14:00 - 15.30pm
Thursday 8th April 14:00 - 15.30pm
Friday 16th April 11:00 - 12.30pm
Monday 19th April 11:00 - 12.30pm
Tuesday 4th May 11:00 - 12.30pm
Finance – Making & keeping your business profitable (3 of 4) -
Tuesday 13th April 14.00am – 15.30pm
Thursday 15th April 11.00am – 12.30pm
Thursday 22nd April 11.00am – 12.30pm
Friday 30th April 11.00am – 12.30pm
Tuesday 4th May 11.00am – 12.30pm
Wednesday19th May 11:00 - 12.30pm
Business Plans - how to translate your ideas into action (4 of 4) –
Tuesday 20th April 11.00am – 12.30pm
Wednesday 21st April 11.00 – 12.30pm
Thursday 29th April 11.00am – 12.30pm
Friday 7th May 11.00am – 12.30pm
Monday 10th May 11.00am – 12.30pm
Tuesday 25th May 11:00 - 12.30pm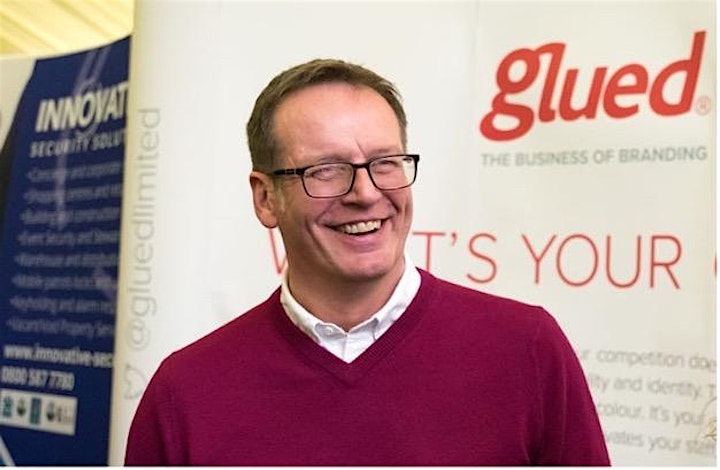 Workshop Facilitator
Rob encourages people to identify and express their own and their organisation's valuable difference so they both get the recognition they deserve.
Recent experience is putting brand and marketing plans and actions into place for organisations offering services to other businesses; and, providing actionable learning for businesses to work on such plans for themselves. Targeted at contributing to business growth through accountable sales and marketing processes. This work is carried out for business owners, managing directors and marketing professionals. The scope of the learning dovetails with: income generation and profitability; operations and process; and individual and collective purpose.
https://www.linkedin.com/in/robharrisonglued/, robharrison@gluedlimited.co.uk, 07787557197, https://www.gluedlimited.co.uk/
About your booking details
Please understand that by participating in this Worcestershire BIPC initiative that your booking details will be shared by our appointed representative, Glued, solely for the purpose of contacting them about the programme, and that their data will only be used in accordance with council policies.