Marketing Nightmares No More - lunch workshop and networking
Description
Banish your Marketing fears

Come along and get some marketing therapy over a sandwich. Limited spots.
If marketing is stressing you out, this is for you. Your product or service may be great. You probably work long hours and feel there's too much pressure and not enough profit.
Marketing is much more than making a noise on social media - although social media marketing is a massive part of marketing today. We fuse strategy and business goals into our client's marketing. This means boosting awareness, enquireis and sales and delivering the longer term goals of your business. All by finding and playing to your strengths. That's how we banish marketing nighmares.

Marketing Sharpness specialise in providing business-driven marketing tailored to your business. Hitul Thobhani, founder, and author of 60 Minute Marketing Makeover, will take you through the steps he uses when helping clients. You will come away with a structured approach and see your marketing more clearly.

Everyone who attends will receive follow up material to allow you to revisit what we cover in the session and learn more.
The price? Only that if you come along you play full out to get the most out of the 45 minutes I will deliver.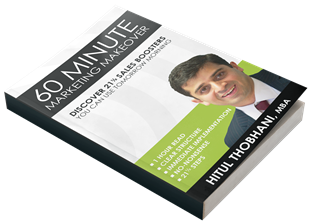 Organiser of Marketing Nightmares No More - lunch workshop and networking
Talk to us if you're stuck with growth. Marketing Sharpness helps SMEs to sell more and look better whether they invest £300 or £3000 per month. Our tailored marketing and sales are driven by clients' needs, maximising their strengths and specialisms to attract more of the business they are looking for.
Services include strategy setting and marketing planning and consulting embracing online and offline methods including campaign management, custom lead generation programmes, social media marketing, video production, online advertising (PPC), search engine optimisation and content creation.