44 LOW Cost or No Cost Marketing Strategies - for those wanting RESULTS on a Shoestring Budget
About this event
Marketing results should only be limited by your imagination and NEVER by budget or available resources.
Low cost or no cost marketing does NOT mean low results or no results, unless you want to.
We created "Marketing on a Shoestring Budget" to help small businesses create and maintain a consistent, measured marketing system that works.
"Random Acts of Marketing" rarely, if ever, work. Sure, you might get the odd bite or two, is that what you REALLY WANT?
We'll also share with you our trademarked Planning System too, allowing you to build a plan that you'll actually use, with strategies that you can afford, to deliver the results you want and need. There's no point in knowing what to do and not taking the action to do it.
"Knowing and not doing is worse than not knowing..."
It really is that simple... What's more, we're going to show you ALL this for free.
Here's a version of the ebook for FREE.
Click here to buy the Paperback on Amazon.
A Zoom Link will be emailed to all attendees before the event.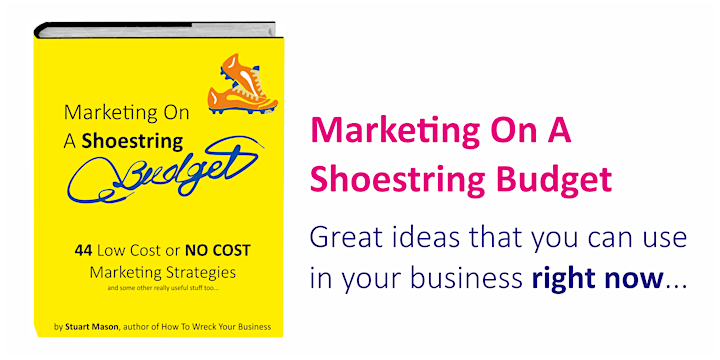 Organizer of Marketing On A Shoestring Budget
Stuart Mason, Action COACH and author of "How To Wreck Your Business", will guide you towards the success you want from your business.
Who better to guide, advise, and share with you the story of building one of the most successful printing businesses in Scotland? A business when at its peak enjoyed significant cash balances in excess of half a million pounds, won numerous awards, and amassed a property portfolio of millions.
How could that business possibly fail on its 20th Birthday?
It's the story that every business owner needs to hear. it's the journey every business owner needs to avoid.
ALL the errors made were avoidable.