Welcome to the February Marketing Talk event where we'll be joined by Lizzie Hodgson.
About this Event
Lizzie Hodgson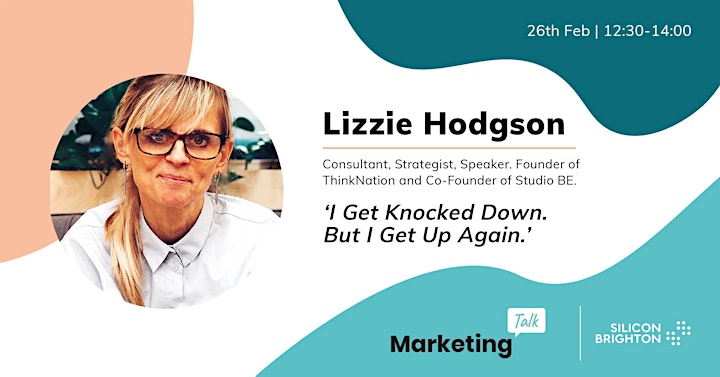 Lizzie has 20+ years' experience focusing on content creation, communications, and marketing for diverse audiences. She focused on developing the digital skills of young people through a range of roles, from Chair of RE:Generation 2031 Steering Group to Presenter of 'The Z-X Spectrum' with young marketing expert, Brandon Relph to being the Founder of ThinkNation and Co-Founder of Studio BE.
Her talk 'I get knocked down. But I get up again' will explore personal strategies and approaches that Lizzie believes have given her unexpected strength and resilience. We'll hear about Lizzie's professional failures, career stumbles and imposter syndrome.
Lizzie will go on to explain how particular events or moments have catapulted her forward, enabling her to use negative experiences to my advantage, powering her work choices to pursue genuine, diverse and more compelling outcomes.
Marketing Talk
Marketing Talk is a virtual (hopefully not for too much longer) community for marketers honing their craft. We regularly host insightful and inspiring speakers who share their knowledge and experiences in short talks to cover all topics every marketer needs in their toolkit. our events are designed specifically for marketers taking their skills to the next level - whether you're a student, in an entry/mid-level role or considering a career change.
This is the stuff they don't teach you at marketing school...
This is were you can learn from people who have already made the mistakes, this is where you can grow in a supportive space. We encourage our community to all get involved. if you want to practice public speaking for the first time or sound out an idea or strategy , this is the place for it.
Our Host
Marketing Talk is hosted by Catherine Loftus - Head of Brand @ Bird & Blend Tea Co. Catherine is a shining example of how by learning from and connecting with other, you can accelerate your own progression. Catherine was once a terrified panellist , but she's progressed to become a fantastic keynote speaker. She hopes through Marketing Talk, others can do the same.