Description
If it is true that you can only market your products or services successfully when you know your customers and speak their language, it is also true that this can be particularly tricky when your target group spans beyond national borders.
In fact, only a small percentage of the world population can speak English, and even a smaller one buys from companies that don't provide information in languages other than English. However, the vast majority of UK companies selling abroad lack the skills needed to communicate with their customers in their native language, thus leaving many business opportunities untapped.
During this seminar, Martina Eco, professional translator and marketing consultant, will take you through the steps you need to take in order to successfully market your products and services abroad.
You will learn about:
market research techniques and resources to understand your customers abroad

localising product information and marketing copy in foreign languages

marketing tools and activities to promote your company beyond national borders

common mistakes and pitfalls to avoid
This seminar, which will also include some practical activities, is aimed at business owners and entrepreneurs who are thinking about expanding their companies abroad, or who are already trading outside of the UK and want to step up their international marketing game.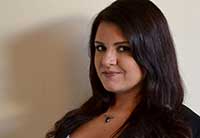 About Martina Eco
Martina Eco is a coffee-fuelled, pizza-loving Italian marketing translator based in London. She's the owner and director of 3P Translation, a company that helps English-speaking SMEs in the food, tourism and hospitality industries grow internationally by providing bespoke translation and interpreting services.
Martina also works as a business and marketing consultant at London South Bank University, and she regularly gives talks and workshops on marketing, business development and translation in and outside of London.
When she's not working, you will probably find her headbanging at a rock gig or browsing through CDs in charity shops.

If you want to get in touch with Martina, visit www.3p-translation.com or connect on Facebook, Instagram or LinkedIn.