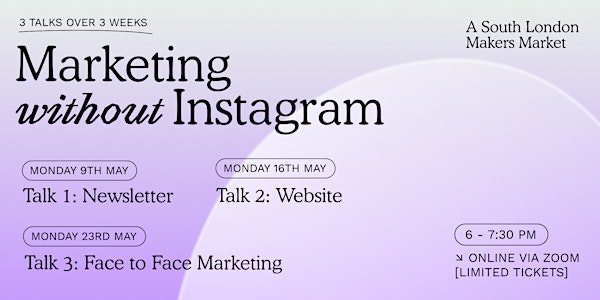 Marketing Without Instagram: 3 Alternative Ways To Grow Your Small Business
Sales Have Ended
Ticket sales have ended
Sales have ended for this event! Make sure to check out our up-coming events. Thanks!
In this three-week course we'll cover: how to build the perfect newsletter, optimise your website and the art of face-to-face marketing.
About this event
Are your sales suffering because you can't reach your audience on Instagram?
Are you tired of wasting valuable hours creating content, only for 10 people to see it?
Are you feeling stressed thinking about having to start all over again on Tik Tok?
Are you sick of social media, and want to find a more sustainable, less crazy-making way of growing your small business that's more in your control?
We are too. And you won't be surprised to hear that when we polled our audience of 50,000 followers, 96% of respondees told us they wanted to grow their small business without spending more time on the social media platform too. 96%! That's huge! In fact, our audience told us that the need to constantly use social media was one of the things they hated the most about running a small biz.
Once a valuable and reliable marketing platform, with phone fatigue, the rise of Tik Tok and domination of video content, small businesses are longer seeing the results they're used to on Instagram. Reach is down, engagement is down, and so morale is at an all time low.
We've all spent years creating an aesthetic, building a loyal customer base, learning how to make content they want to see, and funnelling all of of our sales through a platform that ultimately we don't own and have very little control over.
That's a risky strategy for any small business, because as we've seen with Instagram, it means all your hard work can be pulled out from underneath you with very little warning. And that's a scary place to be. It's something we've realised within our own business and something we've spent the past four months addressing. Moving away from Instagram and focusing on other ways of marketing have not only helped us grow and keep a steady number of sales coming in, but more importantly, have helped us fall in love with the day-to-day running of our business.
And so we want to share with you what we've learnt, and what we know works! There's so much information to cover, we wanted to do each area justice and so we decided to split this talk up into three individual segments.
In this three week mini course, we'll be sharing our biggest learnings and top tips for growing your biz without pouring more hours into social, using three key techniques: your newsletter, your website and good old fashioned face-to-face marketing.
It will be held in three segments, over three weeks. We will cover one topic each week in an hour long session, with half an hour for questions and conversation at the end. Each of the three session will be held on three consecutive Mondays, online via a private group Z`oom Webinar. These will be hosted by us, Daisy and Olivia Tinker, the co-founders of A South London Makers Market.
Combining insights from our own small business, and feedback from the community of thousands of small businesses we've worked with over the past two years, we'll also draw on our twenty years' combined experience working in retail. Daisy had a successful career in content and marketing as an editor, with a particular focus on compelling copywriting and email marketing, at ASOS Marketplace, River Island, Selfridges and beyond. Olivia was a visual merchandising manager on Oxford Street for global brands including H&M.
What will we cover over the three weeks?
Week 1: Newsletters. Monday 9th May from 6pm - 7.30pm
Week 2: Website. Monday 16th May from 6pm - 7.30pm
Week 3: Face-to-face marketing. Monday 23rd May from 6pm - 7.30pm
📧✍️ Week 1: Build a newsletter your audience can't wait to read
As the global number of email users surpasses 4 billion, email marketing continues to grow in importance for businesses of all shapes and sizes. "Newsletter" seem to be the buzz word right now. But with the average person navigating two email inboxes, and receiving more than 120 emails per day, it can be hard to make sure yours stands out from the crowd.
Using Daisy's ten years experience compelling emails for much-loved brands like River Island and ASOS Marketplace, you'll delve into the world of email newsletters and learn what you should be including in yours.
We'll cover everything you need to know about email newsletters from start to finish including:
How to build an email database for free
How to write an eye-catching subject line
What content to include
The best days and times to send them
The stats to stay on top of
👩‍💻📈 Week 2: Optimise your website to grow traffic and increase sales
Until now, many small businesses have started their journey selling through third party marketplaces and platforms. Things like Etsy, Not On The Highstreet, Depop and Amazon. But with spiraling fees and a lack of control in how things are run, many brands are now looking to build their own web presence.
In week 2's session, we'll cover your website, including everything you need to know to optimise your website's content to increase traffic, plus how to create a seamless user journey and remove blockers to increase conversion and make more sales.
Though a slower way to grow, relying on your own website has its own benefits. As a business owner, it allows you far greater control plus, with unlimited access to traffic and sales insights, you can take a more active approach in developing your brand's growth strategy.
We'll cover everything you need to know about building and maintaining a great website including:
How to build a beautiful and functional website
SEO: What it is, why it's important and how it can help you
How to optimise your customer's journey
Common conversion blockers and how to remove them
🗣👄 Week 3: Perfect the valuable art of face-to-face marketing
In the digital age we live in, it's easy to forget that face-to-face marketing can actually be just as valuable and important as online. There's a reason every business owner needs to perfect their elevator pitch! Despite face-to-face marketing reaching a far smaller group of potential customers, we have first hand knowledge of how this can actually be the most vaulable marketing tool for a small business in particular. Because no one can sell your business better than you can.
We'll share insights and ideas on how you can perfect the art of selling your brand IRL. From learning to how get your signage and visual merchadising to communicate key information about your brand so that you don't have to, to our top tips on how to become more confident with selling, plus we'll share insightful info from our audience of 50,000 small biz shoppers on the real reasons they're compelled to shop with some small brands over others, so you know what to lead with next time you're talking to a potential customer.
Drawing on Liv's ten years' experience working in visual merchandising in flagship stores on Oxford Street, you'll delve into the world of real life selling including:
Perfecting your 10 second elevator pitch
How to maximise the potential of a real life event
The importance of visual merchandising and signage
How to actually sell to customers IRL
Who is A South London Makers Market?
A South London Makers Market is an award-winning market run by us; sisters Daisy and Olivia Tinker. With twenty years' combined experience in retail working for brands like H&M and ASOS and a desire to do something more positive in the industry, we decided to start our own business in 2019.
We are on a two woman mission to change the face of retail by connecting more consumers with more small businesses than ever before. We want more people to think of shopping small, swapping and shopping sustainably first before they head to the highstreet giants.
Since 2019 we've hosted more than 30 online markets, 10 real life markets, 3 Swap Shops, and 2 pop-ups inside Selfridges on Oxford Street, as well as countless online seminars and talks where we share our experiences and expertise to help other businesses flourish and grow. We've also won an award; Time Out Magazine's "Best street market of 2021"!
This series of talks will be hosted by us, Daisy and Olivia Tinker.
FAQs
This event is held online via Zoom Webinar which means you won't be visible to us or any other participant. You can "attend" in your pyjamas and we won't see.
We record the talks, so if you aren't able to attend live but still want access to the content, please buy a ticket as usual and then request the video recording via email. We will send the recordings to you after the final three weeks, which you'll be able to access for one month.
Once you book your ticket, you will receive a confirmation email, then two days and two hours before the event a reminder email. If you do not receive these emails please check your junk folder. Please check you have input the correct email address. If you still haven't got these emails, please get in touch with us via email, as otherwise you may have difficulty accessing the talks.
You will also need to make sure you have the latest version of Zoom and that your computer is updated, otherwise you may have difficulty accessing the talk.
If you're having issues accessing the talk, please try using a different browser.
We do not issue refunds under any circumstances. If the events are unable to go ahead, we will reschedule them for another day.