Description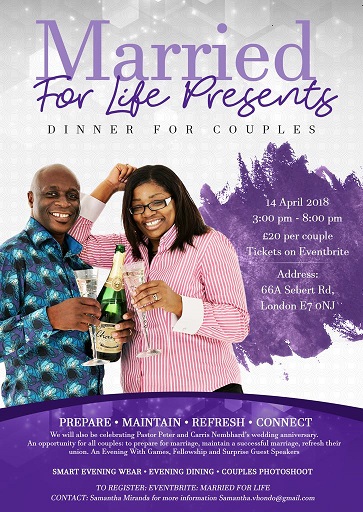 ABOUT
An opportunity for all couples: to prepare for marriage, maintain a successful marriage, refresh their union and connect with other couples.
This will be a fun evening of socialising, sharing testimonies and gaining the right knowledge to apply to your relationship.
WHAT IS THE WORST THING THAT YOU CAN ENCOUNTER IN MARRIAGE?
Darren Carr, a Minister of the Gospel and his wife Lisa-Marie Carr a successful professional, encountered a painful, traumatic experience, intended by the enemy to steal their faith, kill their love and destroy their legacy.
Join us on 14 April 2018 and hear how they saved their marriage and what lessons they learnt.
DOING LIFE TOGETHER
Come and hear Peter & Caris's 29 year marriage journey. How they managed to pastor churches for 25 years of that time raise 4 children and remain friends and lovers and keep the laughter in their relationship.
Learn four important keys.
TICKETS
Tickets are £20 per couple (plus Eventbrite fees).
Food will be provided.
CONTACT
Any questions please contact us on 020 8555 4245 / samantha.vhondo@gmail.com - see more details on the flyer.
We cannot wait to see you there, buy your ticket, encourange others to join you and lets fellowship!