The next mission to explore Mars with ESA, the UK Space Agency, UK STEM Ambassadors and international guests is on the horizon!
About this event
Mars Day 22 is an exciting free virtual event adventure for everyone, organised by the UK Space Education Office (ESERO-UK), STEM Learning and supported by ESA and the UK Space Agency.
On Monday 14 March 2022 there will be more speaker stars than ever before from ESA, NASA's Perseverance team, the UK Space Agency; beam in new space VIPs from the ExoMars Rosalind Franklin rover mission team; schedule a Mars Hour @11am full of activities for schools; and then continue to explore Mars during Mars Week with nationwide partners in the UK space industry, universities, science centres and space groups offering out-of-this-world events.
It's Mars Day, but not as we know it!
The first Mars Day was in March this year when Mars Day 2021 celebrated NASA Perseverance rover's first month on Mars; unveiled the role of the UK space industry in this mission and beyond; showcased UK STEM Ambassador and school sessions; hosted live streamed talks with national and international space VIPs.
Thousands joined in the mission and zoomed in for an awesome array of live link-ups, talks and fireside chats from a sky full of (speaker) stars including Tim Peake, the first British ESA astronaut; Dr Jim Green, NASA's Chief Scientist; Dr Andrew Aldrin, Buzz Aldrin's son; and Sophia Mitchell, Lead Systems Engineer (and rover driver!) at NASA's Jet Propulsion Laboratory. The full 2021 mission programme is here.
Schools had their own sessions starring hidden heroes of the UK space industry and activities. Everyone heard about UK STEM Ambassador journeys from studying STEM subjects to participating in space missions here on Earth with the vast UK space industry.

This first mission was such a success it seemed like an awful waste of space if the adventure stopped here so…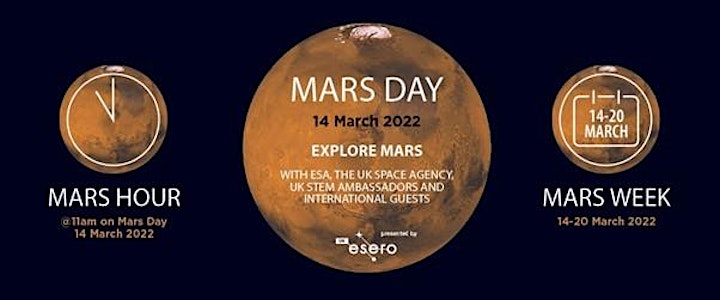 Mars Day 2022 will land on Monday 14 March.
This date celebrates a few milestones – the 6th anniversary of the launch of the first ExoMars mission, the Trace Gas Orbiter; NASA's Perseverance rover exploring Mars for just over a year; and a year since the first Mars Day 2021. It will also be the finale to British Science Week 2022.
With a real Mars mission late in September 2022 – the launch of the ExoMars Rosalind Franklin rover – the next Mars Day mission provides the perfect opportunity to celebrate this awesome event on the horizon.
(image credit: ESA)
Once again Mars Day will explore Mars with a full programme of live link-ups, talks and fireside chats with space stars updating us on current and future Mars missions; STEM Patron & Panel Sessions starring UK STEM Ambassadors; dedicated school sessions and activities. Mission Control once again will be headed up by Dr Suzie Imber and Dallas Campbell.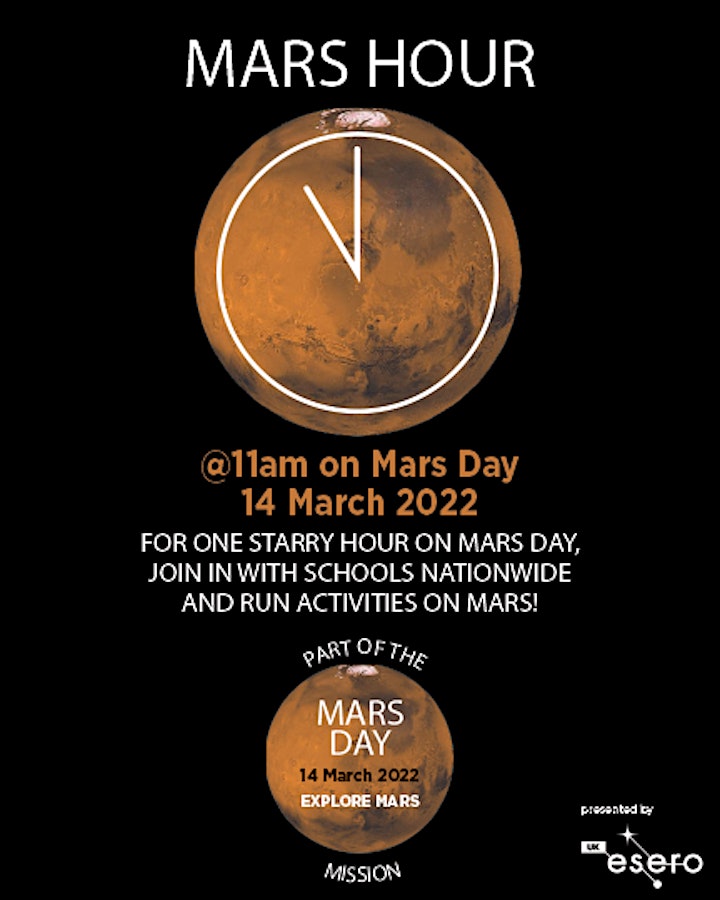 Mars Hour 22
As part of the Mars Day 22 mission, we're inviting schools to host space activities in classrooms alongside fellow schools nationwide – all at the same time.
Mars Hour will run from 11.00 – 12.01 and 36.968 seconds (GMT) on Monday 14 March, a real Mars hour!
Using a galaxy full of free resources from ESERO-UK and other space partners, schools can run a full Mars Hour of activities or join for a part of it. We will also invite UK STEM Ambassadors to land in your school and join your crew for Mars Hour. Check out Mars Hour here: https://marsday.org.uk/mars-hour/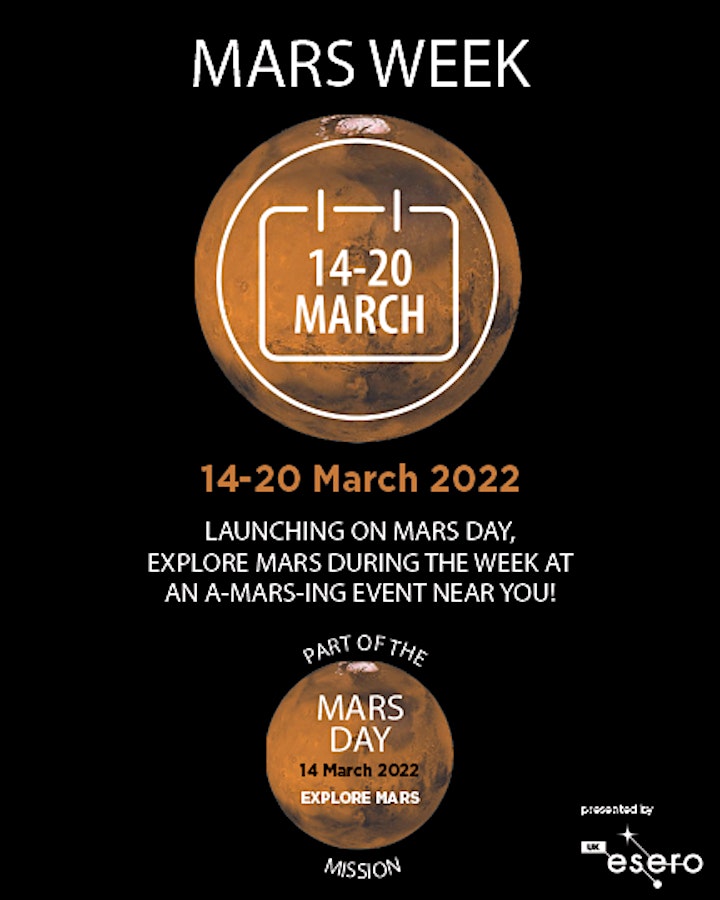 Mars Week 22
Land on a whole week of events
Our next Mars Day mission will include a new adventure - Mars Week - with nationwide events held during 14 - 20 March 2022.
An array of Space and STEM partners will be offering out-of-this-world live and virtual events for schools and the public, giving everyone a universe full of choice.
There will be live streamed and in-person lectures from universities; visits to UK space industry facilities; activities and workshops with science centres; stargazing with space groups and virtual visits to space agencies.
See our stellar range of launch partners for Mars Week here: https://marsday.org.uk/mars-week/
It would be a-Mars-ing to explore Mars with you on Monday 14 March 2022!
Register for your mission place now and we can keep you up to date with mission news.
You can then plan your own mission for the day - touchdown on favourite topics, book for a session or two, or join us for the whole day. You can embark on a solo mission, or join with friends, family or classes at school.
Also, keep visiting the Mars Day website (https://marsday.org.uk/), follow ESERO-UK on Twitter (@ESERO_UK) and Facebook (@ESEROUK) for the latest and remember to follow us on Eventbrite for updates.
The mission control team at ESERO-UK can't wait to explore Mars with you!
Information for teachers
You can access further space themed resources and professional development through the ESERO-UK website: https://www.stem.org.uk/esero/
Information for STEM Ambassadors
If you are a STEM Ambassador working in the space industry and you would like to get involved with the One Million Interactions Programme our can find out more on the ESERO-UK website: https://www.stem.org.uk/esero/inspiring-next-generation
Privacy notice
For our full privacy notice, please see link below:
https://www.stem.org.uk/privacy-policy
If you wish to raise a complaint on how we have handled your personal data please contact our Data Protection Officer who will investigate the matter. You can write to our Data Protection Officer at National STEM Learning Centre, University of York, Heslington, York, YO10 5DD or email datasecurity@stem.org.uk
Organiser of Mars Day 2022